Skype, PayPal fuel eBay revenue growth
Third quarter profits fell by 29%, but Skype and PayPal performances helped push company revenue up 6%.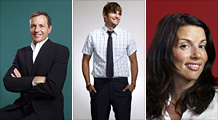 These tech-world luminaries - photographed during our recent Brainstorm Tech conference - aren't just changing the game; they've defined it. Photographs by Robyn Twomey.
NEW YORK (CNNMoney.com) -- eBay Inc. may be trying to unload its Skype Internet phone business, but the division's 29% revenue growth helped bolster the company's third quarter results.
Overall, the company said revenue grew 6% to $2.24 billion, which trounced analysts' expectations of $2.14 billion.
"The year-over-year revenue growth was driven primarily by the continued growth in PayPal, Skype, the company's classifieds business as well as growth in eBay's fixed-price format," the company said. .
Shares of eBay (EBAY, Fortune 500) fell more than 5% in after-hours trading, however, as the commerce company also announced that its profits for the quarter fell 29% from last year to $350 million.
eBay said it earned 27 cents per share in the quarter ended Sept. 30, lackluster compared to the 37 center per share that analysts polled by Thomson Reuters expected.
The company said the drop was due to a decrease in operating margins for the quarter caused primarily by the recently acquired payment system Bill Me Later.
But eBay's chief executive John Donahoe remained optimistic. "These are strong results for a strong company getting stronger," Donahoe said during a conference call with investors. "And our eBay strategies are beginning to work."
The positive results were the outcome of changes eBay has been implementing since 2008, said Sandeep Aggarwal, a senior Internet research analyst at Collins Stewart. The modifications include altered fees for merchants to encourage fixed-price sales and an improved search engine.
The marketplace unit, which includes eBay's core auction business, posted $1.4 billion in revenue, down 1% since last year. But the total amount of goods that eBay sold, excluding vehicles, also known as GMV, rose 7% to $12.2 billion in the quarter.
"The single biggest thing we found most positive was that GMV is showing signs of growth acceleration. Even if you include auto sales, it was still up 2% on a year-to-year basis," said Aggarwal, who expected the figure to decline by 1%.
The company's PayPal business also grew, and the company's efforts to expand the online payment unit to merchant stores has been successful, according to Aggarwal.
The PayPal business reported $668.1 million in revenue, up 15% compared to last year, and the number of active registered accounts grew 19% in the quarter.
In September, eBay announced that it will sell 65% of its Skype Internet phone business to a group of private investors for $2.75 billion, but the deal is pending a lawsuit against Skype's founders.
The exiting segment added 40.3 million users in the quarter and contributed $185.2 million in revenue, representing 29% growth compared to last year.
eBay is forecasting fourth-quarter revenues between $2.20 billion and $2.30 billion, in line with analysts' expectations of $2.26 billion, but higher than the $2.04 billion revenue posted in the fourth quarter of 2008.
But the revenue outlook assumes the sales of Skype in the middle of the fourth-quarter.

Features

These Fortune 100 employers have at least 350 openings each. What are they looking for in a new hire? More

It would be the world's second-biggest economy. See how big companies' sales stack up against GDP over the past decade. More