Rebooting your business model
Hit by the recession, a restaurateur revamps from scratch.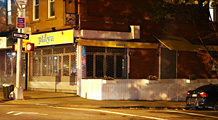 Every restaurateur knows about Cursed Locations, the addresses where no venture survives. Here's a look at 4 trying to break the streak -- and one that failed.
(Fortune Small Business) -- When I moved to New York City from Calcutta, I wasn't planning a catering career. I had come to earn a master's degree in lighting design from Parsons the New School for Design. But as a foodie, I was dismayed by the city's Indian eateries: The good ones were pricey, while the more affordable restaurants served two-day-old curries.
It didn't take a genius to spot a market opportunity for good, low-priced Indian food. I focused on Indian-style sandwiches, which few restaurants were offering. After graduating, I took night classes in restaurant management. In late 2003 I partnered with a former classmate, Rupila Sethi, to open the Indian Bread Co., a cafe in Manhattan's Greenwich Village. We sold flat breads stuffed with fillings or rolled like wraps -- an adaptation of traditional Indian street food.
Business was good from day one, and we soon began to provide catering services. In fact, we catered the Republican National Convention in 2004. But by the end of that year, Rupila wanted to move on to other projects, so I bought her out. Sales rose for the next several years, and I even started negotiations to franchise the cafe concept.
Then the recession hit. Business slowed, and the franchising deal fell through. In February 2009 cafe sales fell 25% to $9,689, from $12,873 a year before. But even though I was losing money, I refused to give up on a proven concept.
Seeking investors, I pitched my cafe to contacts in the restaurant industry. I took on two equal partners: Surbhi Sahni, a pastry chef at Devi, a top Indian eatery in New York City; and Rajiv Tanwar, a lawyer and restaurateur. Surbhi contributed sweat equity, helping me revamp the kitchen and change the menus. Rajiv invested $75,000, which we used to fund improvements.
First we relaunched and rebranded the cafe. To make it stand out, we focused on Mumbai street food. The new name became Aamchi Pao -- "my bread" in Marathi, a language spoken in Mumbai. And we simplified the menu by replacing naaninis, grilled items that take up to five minutes to prepare, with eight kinds of wraps and sandwiches.
We also gutted the kitchen, replacing the grill and the panini press with a simple griddle. The overhaul took two weeks and cost less than $20,000. I handled a lot of the Mumbai-themed interior design myself. I also cut costs by bartering my catering services for logo design work from a local graphic design studio. (I still run the Indian Bread Co. as a catering firm -- we catered the Slumdog Millionaire film premiere in 2008.)
Until the relaunch I had been running the restaurant, handling everything from inventory control to menu planning. But management wasn't my strong suit, and it distracted me from growing the business. So we hired a full-time manager. That freed me up to pursue my strengths: marketing, networking and strategizing.
Our May reopening received good local press coverage, which helped bring back our old customers and attract many new ones. The changes have been effective: Customers spend less time waiting in line, and the kitchen runs more smoothly, which reduces wasted inventory. Although some guests throw tantrums when they hear we no longer serve naaninis, we can usually persuade them to try something else.
And revenues are back up. We project 2009 sales of $315,000, about double last year's revenues.
I've always believed in this company, but it took a recession to make me see that I could turn it into a better business.

To write a note to the editor about this article,
click here
.