Every restaurateur knows about Cursed Locations, the addresses where no venture survives. Here's a look at 4 trying to break the streak -- and one that failed.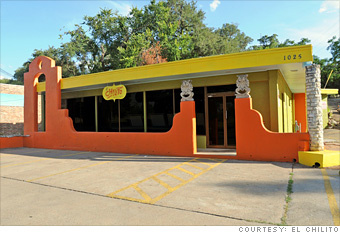 1025 Barton Springs Road
Currently: El Chilito
Past occupants: Gypsy Italian Bistro (2007-2008), Rockhound's Café (2006), Castleberry's Café (2003-2005)
Legend has it that in the 1980s, 1025 Barton Springs Road was a hippie commune, with tents and pods stretched along the cliffs behind the property.
"Wacky. That's Austin," laughs Carlos Rivero, a six-year veteran of Austin's restaurant scene. In August, Rivero became the fourth entrepreneur in five years to open a restaurant at the address, which has also been home to an architecture firm and a beer garden.
"I've wanted to go into that neighborhood for some time," says Rivero. "Barton Springs Road is a landmark address."
Rivero chalks the high failure rate of 1025 up to the inexperience of its recent tenants -- newbie restaurateurs looking to capitalize on the neighborhood's high traffic volume. As the hosting grounds for events such as the Austin City Limits Music Festival, the locale is also home to Zilker Park, a 350-acre area popular for its swimming pool and botanical gardens.
Gypsy Italian Bistro, the address' latest casualty, received lots of good press for its innovative cuisine but was a little too fancy for the area, says Rivero. Gypsy's chef, a recent graduate of Le Cordon Bleu, "was a first-time operator with very limited experience in the restaurant business -- as a sit-down, full-service Italian restaurant, the place wasn't very well capitalized for this particular location," he says.
So far, Rivero's idea -- opening a second outpost of his taco stand, El Chilito -- has fared better. The Mexican joint, with prices ranging from $1.59 to $5.50, has seen sales increase each month since opening.
"If I was asked to gamble on Carlos doing well in that location, I would," says Virgina Wood, food editor for The Austin Chronicle. "I've seen his track record at other locations -- he's a good businessman." -Maggie Overfelt

NEXT: Baltimore