Clock ticking on debt ceiling
This week Uncle Sam plans to sell $123 billion worth of Treasurys. That will bring the country's debt level very close to the $12.1 trillion debt ceiling.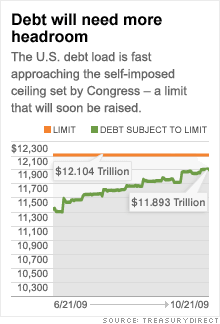 Bailout tracker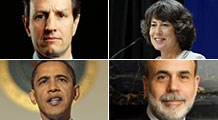 The government is engaged in a far-reaching - and expensive - effort to rescue the economy. Here's how you can keep tabs on the bailouts.
More
NEW YORK (CNNMoney.com) -- Roughly $211 billion separates what the country owes and its self-imposed credit limit.
And by Friday, after another week of massive debt sales by the Treasury Department, that gap will likely have narrowed considerably.
It is now expected that the $12.104 trillion debt ceiling could be breached by the end of November.
It is also expected that lawmakers will raise the ceiling, as they have done more than 90 times since 1940 -- eight of them since 2002.
If they don't, the government could be forced to shut down. But that's not the worst that could happen. In fact, the government did shut down for a spell in 1995 and life went on. The reason lawmakers will eventually approve an increase is because without one ultimately the value of U.S. bonds would sink, jeopardizing the portfolios of countries and investors around the world who invest in U.S. debt.
It makes life a whole lot easier for folks at Treasury if lawmakers take that vote before the ceiling is breached -- and they usually do. But there have been times when Congress voted to raise the limit after it was pierced, according to a recent Standard & Poor's report.
If they don't do so before the breach, "the U.S. Treasury must engage in some legerdemain to create additional headroom," wrote Standard & Poor's managing director John Chambers.
The department has a few options -- but all of them are limited and very short-term. One House Democratic leadership aide said Treasury told congressional staff the steps they can take "will only cover two weeks at most and potentially even less, depending on the timing."
Treasury can, for instance, draw on $113 billion in government securities currently held in a 401(k)-type plan for federal employees, according to the S&P report. Then there's another $3 billion or so that can be tapped monthly from a Civil Service Retirement and Disability Fund. Any money taken from those funds would need to be repaid with interest.
Then there's the option of selling $16 billion worth of the government's dollar holdings in a special currency stabilization fund.
And in a real pinch, S&P notes, Treasury really wanted to it could sell Fannie Mae and Freddie Mac debt, worth about $165 billion at the end of September. But consider that option a non-starter. "If the Treasury were to liquidate these fiscal assets, the sale could disrupt the very markets the original purchases had intended to calm," Chambers wrote.
Beyond that, it's all about saying "no" to others. Specifically, "no" to any part of the federal government interested in, say, keeping the lights on.
While no one doubts the Senate will vote to increase the debt ceiling -- the House in effect has already done so -- it's not clear yet when exactly lawmakers will act. Initially the plan was to vote on the debt limit after work on health reform wrapped up. But since that is taking longer than Democrats originally hoped, the vote may have to come before.
Whenever it comes, there will be a group of lawmakers pushing for more to be done to control the country's debt situation than simply raising a self-imposed cap every year or two.
Noting that current policies are on track to add another $10 trillion to the U.S. debt load over the next decade, a group of Democratic senators wrote a letter to Senate Majority Leader Harry Reid, D-Nev., two weeks ago calling for a new process to be put in place to address long-term fiscal imbalances.
"We do not believe that action on these important issues will occur under the regular order in Congress."
- CNN's Ted Barrett contributed to this report.
Talkback: Have you become a saver? What clever tips do you have for saving a buck? E-mail realstories@cnnmoney.com and you could be part of an upcoming article. For the CNNMoney.com Comment Policy, click here.

Features

These Fortune 100 employers have at least 350 openings each. What are they looking for in a new hire? More

It would be the world's second-biggest economy. See how big companies' sales stack up against GDP over the past decade. More