Get Ivy League smarts - free
Top universities are now posting lectures online. For a career boost, start downloading.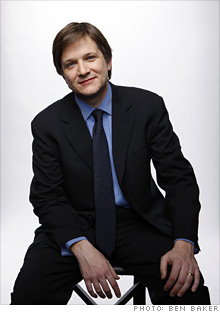 (Money Magazine) -- Last autumn I took time off to go back to school. The timing turned out to be just right: My American economic history course at the University of California at Berkeley got to the Great Depression in early October, around the time everyone became convinced we were about to have another one.
The professor, a former Treasury official named Brad DeLong, had no shortage of opinions on what needed to be done about the current crisis. Hearing those arguments in the context of the Depression's grim history made the stakes especially vivid.
Okay, so I never actually went to Berkeley. My "time off" consisted of jogs over the Brooklyn Bridge listening to lectures I had downloaded from iTunes. I took no tests, wrote no papers, and got no credit. It was a shadow of the experience of taking a real course. But my virtual auditing still made me smarter on the job as my colleagues and I tried to figure out how to respond to the crisis. And it was free.
If you want to keep up to date in your field (or explore a new one), take a look at what universities are giving away on the web.
School's open
The easiest way to get started is to explore the offerings on the three sites in the table at right. Schools are experimenting, and it's still a mixed bag of stuff out there.
A few schools post full semesters of lectures, some just one-offs; others offer only written class materials such as study guides and syllabuses. Nothing's for credit. But you should find plenty of material relevant to your career: computer science classes at Stanford, interviews with top faculty at Wharton, and economist Robert Shiller's Financial Markets course at Yale.
Not that it's all about work. I brought Yale professor David Blight's lectures on the Civil War with me on vacation -- and found them so engrossing that I forgot all about the novels in my suitcase.
Making it matter
I can see here the glimmer of a solution to a nagging problem. Mid-career professionals too often find that their skills are obsolete and that employers are no longer interested in providing career ladders. We'd like to invest in our skills. But a $25,000 to $100,000 grad school stint can be a speculative bet.
A master's degree may signal to employers that you're a clever person who got into grad school. But the effect is muted when you already have a 20- or 30-year-long work history speaking for you. So unless you know exactly what you want -- you need an MBA to get promoted, for example -- you may be better off putting ideas in your brain free than putting more credentials on your résumé. For now, at least.
There are lots of potential price-tags between free and the cost of a degree (or even a course credit). Joel Thierstein, an associate provost at Rice University, says the next big step in education might be for schools and other organizations to provide super-focused certifications.
Instead of an MBA, perhaps you could take a test showing that you have a grip on, say, two management topics that apply to your specific career -- whether you learned it in class or with "open-source" material available online. It's cool idea, and I'd sign up. In this crazy economy, I'll take any edge I can get.

Send feedback to Money Magazine
Features

These Fortune 100 employers have at least 350 openings each. What are they looking for in a new hire? More

It would be the world's second-biggest economy. See how big companies' sales stack up against GDP over the past decade. More