A surprisingly decent third quarter
Quarterly results fell from a year ago, but by a lot less than what analysts had previously anticipated. And the next three quarters are looking even better.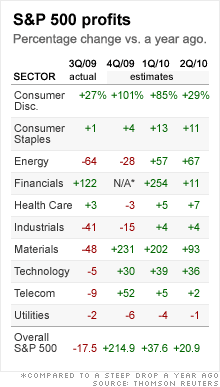 NEW YORK (CNNMoney.com) -- A far better-than-expected third-quarter reporting period is nearly over, closing the door on the longest streak of declining profits since Thomson Reuters began tracking the numbers 15 years ago.
With roughly 70% of the S&P 500 having reported, results are currently on track to have fallen 17.5% from a year ago. Should those numbers hold up, that would make the third quarter the ninth in a row in which profits shrank and the longest in Thomson history.
The third quarter is also probably the last in awhile in which profits shrank, according to forecasts. The next few quarters of corporate profits look poised to benefit from an improving economy, trillions in fiscal and monetary stimulus and cost-cutting that has left companies lean and mean. But earnings are also set to surge simply by default, following an abysmal second half of 2008 and start of 2009.
"We're seeing some growth, but many companies are benefiting from easy comparisons to a year ago," said John Butters, director of U.S. earnings at Thomson Reuters.
Earnings in the current quarter are on track to have grown 214.9% from the fourth quarter of 2008, the worst quarter in Thomson's history. This time a year ago, the crisis in the financial and auto sectors hit a nadir, the recession intensified -- and quarterly results plunged 67%.
The financial sector suffered a quarterly loss in the fourth quarter of 2008 that was unprecedented in Thomson history, Butters said. As a result of that plunge, Thomson can't calculate how much of a jump the sector will see in the fourth quarter of this year.
The first and second quarters of next year are expected to move toward a more moderate rate of growth, rising 37.6% and 20.9% respectively.
Third quarter: The third quarter brought positive surprises from a variety of sectors, in particular financials and consumer discretionary.
JPMorgan Chase (JPM, Fortune 500), Wells Fargo (WFC, Fortune 500) and Citigroup (C, Fortune 500) were among the big banks helping the financial sector. But insurance company AIG (AIG, Fortune 500) is the main reason financial profits are on track to have risen 122% from a year ago. Strip out AIG and profits are on track to have fallen 8%.
Ford Motor (F, Fortune 500), which reported a nearly $1 billion profit Monday, was among the companies helping the consumer discretionary sector, which is on track to have posted profits of 27% versus a year ago.
Energy sector profits are likely to have plunged 64% versus a year ago, due to lower oil prices and the impact from the recession. Energy sector losses are expected to be the steepest of the S&P 500 sectors.
Roughly 80% of the S&P 500 reported better-than-expected results. Should that number hold up, it would be the biggest percentage of companies to top forecasts since Thomson began tracking the numbers. Over 6% met forecasts and 13% missed.
Earnings are continuing to top forecasts due to cost-cutting and although some improvement is showing up in revenues, the changes are still modest. Third-quarter revenue is expected to have fallen 10.1% from a year ago. Of the 340 companies that have reported revenues, 58% have beat expectations and 42% have missed.

Features

These Fortune 100 employers have at least 350 openings each. What are they looking for in a new hire? More

It would be the world's second-biggest economy. See how big companies' sales stack up against GDP over the past decade. More