The economy has grown for five straight quarters, but there are signs that the recovery is still fragile.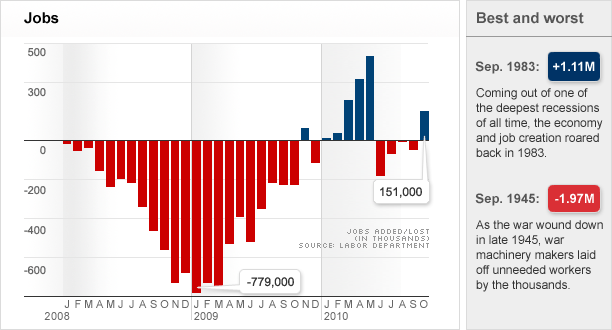 What it is: Each month, the government calculates how many people are on private and government payrolls across every sector to determine how many jobs the economy is creating or losing.

Why it's important: The economy finally started creating jobs in the beginning of the year, but then employers pulled back in the summer months and the government shed temporary census jobs. Economists say the country needs to create at least 125,000 jobs per month just to keep up with population growth, and even more to show a true recovery. That translates into roughly 11 million jobs just to get back to the 5% unemployment rate from before the recession.

Where we're headed: The labor market has historically dragged its feet at the beginning of an economic rebound, as businesses wait for sure signs of a recovery before hiring. Many economists think that job growth will continue to sputter at a slow pace into 2011.
NEXT: GDP: Slow growth
Last updated November 23 2010: 10:39 AM ET