Haggling over global warming
A deal to trade more nuclear power and offshore oil drilling for a cap on greenhouse gases may go nowhere, but don't rule out even bigger schemes.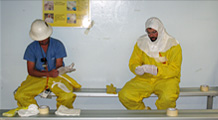 South Texas could see the first new nuclear power plant built in the country in 30 years. Most locals love it, but nationwide some are questioning the so-called nuclear renaissance.
NEW YORK (CNNMoney.com) -- The success of a congressional effort to push through stymied climate change legislation remains far from a sure thing.
Sens. John Kerry, D-Mass., and Lindsey Graham, R-S.C., have offered provisions to try to sway Republican lawmakers and business groups to support caps on greenhouse gasses.
The problem: The very incentives that might entice the bill's opponents, such as expanded nuclear energy and domestic oil drilling, are too much for many Democrats to stomach.
For example, the nuclear industry is looking for upwards of $100 billion in loan guarantees that would go toward building approximately 20 new plants. Long-term ambitions are even bigger. Some Republicans in Congress want up to 100 new nuke plants built over the next few decades.
But, at the same time, adding too many nuclear goodies hurts the legislation's chances.
"It would risk favoring nuclear over everything else," said Divya Reddy, an energy policy analyst at the Eurasia Group, a political risk consultancy. "The outlook for eventual passage is looking weaker and weaker."
That doesn't bode well for the Obama administration, which hoped to have a deal at least in the works before heading to Copenhagen next month to hammer out a global greenhouse gas treaty.
As for increased oil drilling, the ban on offshore drilling has already expired. Although it could be reinstated with a stroke of the president's pen, Reedy said pro-drilling advocates may be better off simply pushing for a permanent OK in a separate energy bill rather than tangling it up with global warming. Plus, the type of access staunch drilling advocates are looking for - off Florida's west coast and in Alaska's wildlife refuge - would be too much for many Democrats to support.
And still, even if broad access to drilling and many more nuclear plants were offered, some lawmakers opposing greenhouse gas laws would remain unconvinced the current bill is a good idea.
"The Democrats could offer bags of gold," said Thomas Pyle, president of the Institute for Energy Research, a free-market-oriented think tank. "There's just nothing that would make cap-and-trade easy to swallow."
Or is there?
Kevin Book, managing director of research at the consultancy ClearView Energy Partners, thinks the dealing over cap-and-trade is far from done, and in the end the bargain could be much grander than the one offered by the two senators.
Book envisions a combined energy and global warming bill making its way to the Senate floor sometime early next year. In it will be between $1 trillion and $2 trillion in various energy incentives, spread out over many years.
Senate leaders have also hinted a combined bill is a possibility.
Book envisions payouts for nearly everyone. Some $100 billion for clean power, including nuclear. Subsidies for oil, coal and natural gas. Farmers getting generous payouts for growing certain crops. And yes, a cap on greenhouse gases.
"This is an industrial stimulus policy," said Book. "It will pass when it has a big enough stimulus in it."
And it won't cost the government much, instead paid for by fees to emit greenhouse gases and royalties collected from drilling off both coasts -- but not in Alaska. He said the continental drilling alone could ultimately generate over $1 trillion over the decades-long life of the wells.
The key to getting this passed?
Energy prices must remain low so consumer don't balk at the higher costs a cap-and-trade plan would likely create. And states need to remain cash-strapped so they have an incentive to open up more areas for drilling. Those are both dependent on the economy.
"In spite of what everyone thinks, the number one criteria is a weak economy," he said. "It's only passable when energy prices are cheap and states are poor."
Let the horse trading begin.

Features

These Fortune 100 employers have at least 350 openings each. What are they looking for in a new hire? More

It would be the world's second-biggest economy. See how big companies' sales stack up against GDP over the past decade. More