Obama mortgage rescue: Only a few get lasting help
Only a handful of homeowners are receiving permanent loan modifications under the Obama administration's foreclosure prevention plan.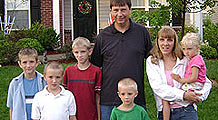 In June, CNNMoney profiled homeowners hoping to qualify for President Obama's foreclosure-prevention plan. Four months later, we check in on our panel.
NEW YORK (CNNMoney.com) -- Only a tiny percentage of troubled homeowners have received permanent modifications under President Obama's foreclosure prevention plan, raising concerns about the effectiveness of the $75 billion effort.
Fewer than 5% of the trial modifications on loans owned or guaranteed by Freddie Mac were converted to long-term adjustments as of Sept. 30, according to the mortgage finance giant.
Looking more broadly, the figures are even lower. As of Sept. 1, only 1.26% of all trial adjustments were made permanent after three months, reported the Congressional Oversight Panel, which monitors the government's use of bailout funds.
The Treasury Department is set to release within coming weeks the first comprehensive look at the number of permanent modifications issued so far.
The preliminary data, which has not been widely reported, underscores the next big problem facing the government's effort: Officials have leaned on banks to offer more homeowners trial modifications, but the real test will be whether homeowners will receive lasting help.
"No one is really sure why the conversion rate is so low," said Mike Zoller, assistant economist at Moody's Economy.com. "We're concerned these loans will eventually become foreclosures."
Under the president's plan, delinquent borrowers are put into trial modifications for several months to make sure they can handle the new payments and to give them time to submit their financial paperwork. If they qualify for a long-term modification, borrowers can keep making the lower payments for five years, after which time the interest rate is set at the rate at the time of the adjustment, or about 5% today.
The number of permanent modifications reported is expected to be small, industry observers said. Servicers say they are having trouble getting the necessary documents from borrowers, while homeowners maintain that their servicers are repeatedly losing the paperwork.
And, the question remains, how many people will meet the criteria necessary to adjust their loans for the long-term?
Once homeowners send in their paperwork, servicers may find these borrowers don't have enough income or have too much equity or savings to qualify. Or it may just be more profitable for the bank to foreclose on the home than modify the mortgage.
While the foreclosure rate has eased a bit recently thanks in part to the growing number of people in trial modifications, some experts fear foreclosures will start rising again unless more people receive permanent assistance.
"Everyone is going to be shocked at the low conversion rates from trial modifications to permanent modifications," said Guy Cecela, publisher of Inside Mortgage Finance, a trade publication. The president's program "won't result in a significant number of loans being modified and won't put a significant dent in foreclosure rates."
To be sure, the program is still in a relatively early stage, and the number of trial modifications did not really start ramping up until the fall. Also, in recent weeks, the administration and servicers have taken steps to increase the conversion rate by lessening the documentation requirements and even hiring firms to go door-to-door to assist borrowers with collecting the paperwork.
"We continue to identify new ways to refine the program and increase the likelihood that trial modifications will become permanent ones," a Treasury spokeswoman said.
Announced in February and launched in April, the foreclosure prevention program seeks to help as many as 4 million troubled homeowners by putting them mortgages where the monthly payments are no more than 31% of the borrowers' pre-tax income.
Though the initiative got off to a slow start, some 650,000 people have been placed in trial modifications, which were originally intended to last three months but recently lengthened to five. To get into the trial period, homeowners only need to meet some basic criteria, including owing less than $729,750 on their mortgage and having monthly payments above 31% of their pre-tax income.
Verifying documentation
During the trial period, borrowers must send in the documentation needed to verify their income and expenses, including tax returns, pay stubs and bank statements. Homeowners must also be timely with their trial payments to receive long-term adjustments.
At JPMorgan Chase (JPM, Fortune 500), about 92,500 borrowers, or just over half of those in the president's loan modification program, have made more than three payments. But only 26% of those have also submitted all of the required documents.
"We're not sure why we're not getting the documents from people," said Chase Spokesman Tom Kelly, who declined to say how many permanent modifications the bank has completed.
Citigroup (C, Fortune 500), meanwhile, has converted about 1,800 borrowers into permanent modifications, said Sanjiv Das, head of CitiMortgage. The servicer has about 89,000 in trial modifications.
Citi, too, is having trouble with the documents. Often, borrowers send in paperwork that is not complete or has errors, Das said.
But, the Treasury Department's recent relaxation of the rules has allowed Citi to ramp up its efforts. In particular, servicers are now able to accept electronic signatures on tax documents instead of having to secure signed forms. As a result, the number of Citi borrowers whose files are complete has soared to 11,000, from 3,500 only three weeks ago.
"It will go up substantially" said Das, who expects Citi to place between 5,000 and 6,000 borrowers in permanent modifications by year's end.
Going door-to-door
The low number of conversions has kicked administration officials and loan servicers into higher gear to secure the paperwork needed to evaluate borrowers for long-term modifications. A growing number of servicers are hiring companies to knock on borrowers' doors in hopes of getting the required income and tax statements.
"This will give [borrowers] someone they can talk to who is reliable and knowledgeable so they can turn that trial period into a permanent modification," said Brad German, a spokesman for Freddie Mac (FRE, Fortune 500), which in late September hired a firm to work with servicers to gather the needed documents from homeowners.
Many servicers, including Citi and Chase, are working with such firms. Others have tried other ways to entice borrowers to provide their documents.
Saxon Mortgage Services, which leads the pack with 44% of its eligible delinquent borrowers in trial modifications, has offered homeowners in California and Florida $25 gift cards to come to company-sponsored foreclosure prevention events with paperwork in hand.
Only about 15% of the borrowers took Saxon up on its offer, a spokesman said.

Features

These Fortune 100 employers have at least 350 openings each. What are they looking for in a new hire? More

It would be the world's second-biggest economy. See how big companies' sales stack up against GDP over the past decade. More