Black Friday turnout to rise modestly
Survey says 134 million shoppers will hit stores on the Black Friday weekend, up from 128 million a year ago.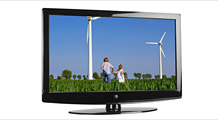 An early peek at holiday ad circulars shows that post-Thanksgiving shoppers can score crazy deals -- like an LCD HDTV for half price, or a Nikon camera marked down 40%.
NEW YORK (CNNMoney.com) -- The number of people shopping on Black Friday and the days following is expected to see a modest pick up, according to a survey released Tuesday.
Up to 134 million people said they will shop on the Friday, Saturday or Sunday following Thanksgiving, up 5% from 128 million people the previous year. (See correction below.)
"Regardless of what we've already seen these last few weeks in terms of promotions, retailers still have a few tricks up their sleeves to excite Black Friday shoppers," said NRF president Tracy Mullin in a statement.
She said shoppers should expect big sales on popular categories like toys, electronics and clothing.
The survey said most consumers are expected to flock to department stores and discount stores on Black Friday, the day after Thanksgiving which unofficially marks the start of the holiday shopping season.
About 41% will shop at electronic stores, 36.3% at clothing stores, and 28.8% at grocery stores, the report said. With increased cyber deals from retailers, 27.6% of consumers said they would shop online.
Some stores are extending hours on Black Friday so consumers have more time to shop for their "doorbuster" deals.
One in ten bargain hunters said they would head to stores as early as midnight, according to the survey, while 28.8% said they would arrive around dawn, between 4 a.m. and 6 a.m. Another 28.2% said they would shop between 7 a.m. and 9 a.m.
Among retailers who will open their doors at midnight, Toys R Us said early bird shoppers at its stores will get "doorbuster" deals on 70 deals between midnight and 1 p.m. and and additional 50 more "doorbuster" deals starting at 5 a.m.
Wal-Mart (WMT, Fortune 500) also said its 810 stores that are not already open 24-hours will pull all-nighters for Black Friday.
Earlier versions of this story erroneously reported a traffic figure and percentage increase for Black Friday.

Features

These Fortune 100 employers have at least 350 openings each. What are they looking for in a new hire? More

It would be the world's second-biggest economy. See how big companies' sales stack up against GDP over the past decade. More