Consumers more optimistic about recovery
Conference Board's reading for consumer confidence rises in November, but outlook on present situation remains downbeat.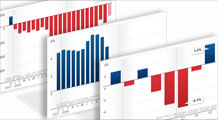 The economy has grown for five straight quarters, but there are signs that the recovery is still fragile.
NEW YORK (CNNMoney.com) -- A key measure of consumer confidence gained slightly in November, snapping a two-month declining streak, a research group said Tuesday.
The Conference Board, the New York-based research group, said its Consumer Confidence Index rose to 49.5 in November from an upwardly revised 48.7 in October.
Economists were expecting the index to dip to 47.5, according to a Briefing.com consensus survey. The figure, which is based on a survey of 5,000 U.S. households, is closely watched because consumer spending makes up two-thirds of the nation's economic activity.
The overall index remains at historically low levels. A reading above 90 indicates the economy is solid, and 100 or above signals strong growth.
Despite the modestly upbeat figure, Lynn Franco, director of the Conference Board, said "consumers are entering the holiday season in a very frugal mood."
The index component that evaluates consumers' judgment of the present situation was virtually unchanged, slipping to 21 in November from 21.1 the previous month. The measure stands at the lowest level since the 17.5 measured in February 1983.
Consumers' assessment of the job market also continued to deteriorate. The percentage of those claiming that jobs are currently hard to get reached a new high of 49.8%, while the number of consumers claiming that jobs are "plentiful" hit a new low at 3.2%.
Employers continued to cut jobs from their payrolls in October, as the unemployment rate rose to 10.2% and hit another 26-year high last month, according to a report from the Labor Department.
The percentage of consumers expecting their incomes to increase declined to 10% from 10.7%.
Despite their current outlook, however, consumers are optimistic about a recovery.
The expectation index, which measures consumers' outlook over the next few months, climbed to 68.5 from 67 last month.
Franco said the "moderate improvement was a result of a decrease in the percent of consumers expecting business and labor market conditions to worsen, as opposed to an increase in the percent of consumers expecting conditions to improve."
While the percentage of those expecting the job market to improve edged down to 15.2% from 16.8%, the percentage of consumers expecting fewer jobs dropped to 23.1% from 26.1%.
Likewise, the percentage of consumers expecting an improvement in business conditions over the next six months dropped to 20% from 20.8%, but those expecting conditions to worsen decreased to 15.1% to 18.2%.
But even the "underlying data is abysmal," said Mark Vitner, senior economist at Wells Fargo.
"Fewer people think things will get worse, which isn't very comforting. You'd have to be a real pessimist to think things will get worse than they already are," said Vitner, adding that the consumers' assessment of the economy might be "overly bleak."
Given the amount of stimulus the government has pumped into the economy, Vitner said he is "disappointed that this is all we're getting in consumer sentiment for economic recovery."
For a healthier reading, Vitner said consumers need to believe jobs will be created and incomes will rise so they will increase spending.
The data followed a government report that said GDP, the broadest measure of economic activity, rose at an annual rate of 2.8% in the third quarter of this year, less than the 3.5% it originally reported.

Features

These Fortune 100 employers have at least 350 openings each. What are they looking for in a new hire? More

It would be the world's second-biggest economy. See how big companies' sales stack up against GDP over the past decade. More