Black Friday shoppers hear the call of Zhu Zhu
The robotic hamsters are the big attraction as throngs of doorbusters queue up at the Toys R Us flagship store in Times Square.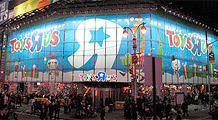 Hundreds of shoppers waited for hours ahead of the midnight opening at Toys R Us in New York's Times Square.
NEW YORK (CNNMoney.com) -- Zhu Zhu hamsters proved themselves the undisputed kings of Black Friday.
Zhu Zhu fanatics were so numerous on Thanksgiving night, that they were given their own line in front of the flagship Toys R Us store in New York's Times Square. Hundreds of shoppers queued for hours ahead of the midnight opening, specifically so they could get their hands on the robotic rodents.
"It's the only thing my little sister wants for Christmas and she is going to get it," said Kaitlynn Blyth, a communications student at Pace University in New York City, shortly before the doors opened.
Blyth and her cousins, Hillary Blyth and Brittney Fusco from Albany, N.Y., had been waiting since 7:30 p.m., making them the first in line for Zhu Zhu toys, rated by the National Retail Federation as among the 10 hottest for the holiday season. Everyone in the Zhu Zhu line held a red ticket given to them by a Toys R Us staffer, guaranteeing them the purchase of a furry little automaton.
When the doors opened, they were funneled directly to the Zhu Zhu section, and the mob scene there stood in stark contrast to the New Moon section, its T-shirts and action figures largely ignored despite the movie's hype. (Black Friday crowds eager to spend)
But Blyth was not the first Black Friday shopper to arrive at the world's largest toy store. That distinction went to Frank Davila of Manhattan, who showed up at 5 p.m. with three of his family members. They headed the doorbuster line -- the shoppers who made the mad scramble into the store at the stroke of midnight.
Davila and the other doorbusters weren't there specifically for Zhu Zhu hamsters. They were there for discounts. Davila said he planned to spend $600 on a wide assortment of toys for his eight kids.
"We're here to get some Elmos, some action figures, My Little Pony for our daughters, whatever we can get," he said.
The recession didn't seem to dampen shoppers' enthusiasm. Toys R Us spokeswoman Kathleen Waugh noticed that the lines seemed to be longer than in previous years, when the doors typically opened at 5 a.m. on Black Friday.
"[There are] a lot more than last year," said Waugh. "I think the midnight hour is much more appealing to most people, because they just stay up, instead of having to get up later."
Shoppers thronged the three floors of the store, laden with enormous tote bags full of StarWars and Lego toys, Transformers and Hannah Montana dolls. Hundreds of shoppers formed a slow-moving line that snaked through the video game section, grabbing Wii accessories, DVDs and PS3s and the Xbox 360 with Modern Warfare 2.
"They got some good Black Friday s*** going on," said Sean Jones, who made the trek from Brooklyn to load up on toys for his toddler-aged son and daughter. "They got some stuff for a dollar. You can't beat that."
This year, Black Friday retail sales are expected to outpace 2008, with 5% more shoppers participating.
Michael Zorek, a Manhattan father of two children, left the store after paying $132 for an assortment of toys, including a Leapster Learning Game System and a Disgusting Science Kit. He said that he got almost everything on his shopping list.
"I didn't get the Disney Princess Purse, but I got the Tinkerbell one instead," he said. "You get what you get and you don't get upset."
Zorek said he would take a nap and then go to the 5:30 a.m. opening of the Gamestop store.
"I'm burning the candle at both ends, but if you're going to save $40 here and $40 there in this economy, it's worth it," he said.

Features

These Fortune 100 employers have at least 350 openings each. What are they looking for in a new hire? More

It would be the world's second-biggest economy. See how big companies' sales stack up against GDP over the past decade. More