Quiet Black Friday on Main Street
No frenzy in Red Bank, N.J., where merchants expect bigger sales as Christmas draws closer. A group of artists in Iowa gets an enthusiastic turnout at their buy-local market.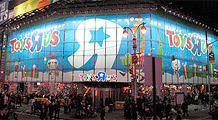 Hundreds of shoppers waited for hours ahead of the midnight opening at Toys R Us in New York's Times Square.
RED BANK, N.J. (CNNMoney.com) -- Black Friday was slow and steady for Main Street retailers, a sharp contrast from the door-busting stampede of bargain hunters that rush Wal-Marts and Best Buys across the nation.
But small, independently owned businesses never see the post-Thanksgiving shopping spree that malls get. Consumers hunting for novelty items they can't get at big box discount retailers tend to show up later in the holiday shopping season.
Patti Siciliano, the owner of Funk and Standard Variety Store in Red Bank, said that two hours into Black Friday, her sales were in line with the same time last year.
But the economy has affected her customers. "People aren't spending what they used to," Siciliano said, who has owned the store since 1998.
While customers are shopping on a budget, that could work to Siciliano's advantage. "Inevitably, we do well in the holiday season because we are gift-driven and reasonably priced," she said. "A little book that costs $12 could make the whole family laugh for 1-1/2 hours." The majority of her clothing line retails for between $20 and $32.
Red Bank merchants work to draw in customers: Small businesses are using lower-priced merchandise, sales and customer service to drum up business this holiday season.
Another retailer on the same street as Funk and Standard is tailoring its inventory to a budget-conscious consumer. A.H. Fisher Diamond has been on Broad Street since 1983.
Black Friday does not bring huge crowds, but foot traffic should likely pick up. "We anticipate it to be a little bit of a better day," said Matthew Fisher, vice president of the store. "But as we get closer to Christmas, that is when it gets really busy."
Fisher has noticed customers pinching pennies and is adjusting his inventory accordingly. He ordered two new jewelry lines that start at a lower price point, retailing for between $50 and $300. One line arrived about a week and a-half ago, and the second is due before Christmas.
Janet Schmierer, the owner of JFS Interiors in Red Bank, found that customers were asking her whether she would have any Black Friday discounts at her antique and consignment shop. Schmierer decided to offer between 10% and 30% off, and she placed an ad in the local newspaper and a big sign on the loan in front of her sale to advertise.
The down economy has affected demand for Schmierer's custom design work and she has had to adapt. Shoppers "are bargaining more. I have been more flexible with my pricing," she said.
Tom Fulton, partner of the olive oil boutique Carter & Cavero, said that small businesses don't get the same traffic as larger stores on Black Friday, but that his temporary stand in the Bryant Park Holiday Market in New York has been seeing better-than-expected holiday sales.
"It is a hard economy, but our clients like the service we provide," said Fulton. "We greet them and let them taste the product." The attentive customer service has earned the olive oil and vinegar store a slew of loyal, repeat customers.
Avoiding Wal-Mart; buying local: A survey from the National Retail Federation released earlier this week found that two thirds of Black Friday shoppers would be heading to discount stores.
For some, the slower pace of Main Street is exactly the draw. Paul Shangold, 44, of Middleton, N.J., says his Black Friday shopping will include "anywhere but the big stores. I don't think you could pay me to go into those stores today."
Paul's wife, Gena, also prefers the smaller stores. "It's a lot more fun to shop at the little stores," she said. "They have interesting things, they are different. If you go into the mass merchants, then you see the same things over and over."
Shopping Red Bank's indie stores is also about protecting the community. "We like supporting the local business," said Sean White, 38, of Red Bank, who was strolling the town's streets Friday morning with his wife, Sarah.
Cities across the nation are actively working to encourage shoppers to spend their dollars at home. Market Street Media Foundry is a space in Des Moines, Iowa, for local artists to work. The group organized an event with 30 different artist-vendors called Market Day Black Friday to encourage holiday shoppers to spend their dollars locally.
Scott Kubie, the "floor boss" at Market Street Media Foundry, said the turnout was overwhelming. "People are buying; they are walking out of here with gifts and lamps and hair pieces, original paintings, prints, magnets."
Feedback from shoppers was very positive, too. "The vibe I was hearing from people was that if this wasn't going on today, they might not have gone out today -- they would stayed at home, ate leftovers, and watched football," said Kubie.
But given the opportunity to buy locally made goods, Des Moiners got off the couch. People "are feeling good about buying local and they are thinking about buying local for the rest of their gifts, and that is great," said Kubie. "If we can make that happen even a little bit, then it is definitely a success."

To write a note to the editor about this article,
click here
.