Where's my flying car?
For almost 80 years, aviation entrepreneurs have dreamed up winged automobiles. Here's why we're still grounded.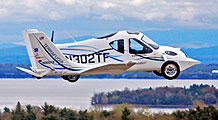 Why 7 flying car startups are still grounded.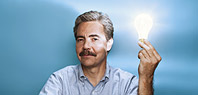 Wireless electricity, invisible speakers, a mind-reading headset -- see what America's entrepreneurs are creating for release in 2010.
NEW YORK (CNNMoney.com) -- For almost 60 historic seconds in March, the Transition -- half car, half airplane -- soared over New York's Plattsburgh International Airport. The airborne minute was the first successful test flight for the two-seat, road-ready aircraft.
"Our test pilot's comment was that it was an unremarkable flight," says Carl Dietrich, CEO and co-founder of Terrafugia, the 10-person startup in Woburn, Mass., that designed and built the Transition. "That's what we wanted to hear."
The March flight was the first of two dozen runs that mark the initial stage of bringing the flying car into production. It's also a bit of validation for an industry that has existed for nearly a century without a single market-ready success. Since the 1930s, more than 30 patents have been filed for flying car designs, documenting the dreams of dozens of aviation entrepreneurs enthralled by Jetsonian ideals of zooming around dodging traffic in tiny, efficient personal aircrafts.
Advances in composite materials and recent modifications of Federal Aviation Administration requirements have lowered some of the barriers of entry into this slow-moving market. Today, there are at least 12 U.S. firms working on flying car prototypes.
But only one, Terrafugia, expects to deliver its product to customers in the near future -- and that's still two years away.
"We're on schedule to make our first delivery at the end of 2011," says Dietrich. "But we still have to go through all of the certification testing next year. Hopefully we'll still be on track after that."
Like every startup in its sector, Terrafugia faces obstacles that have plagued the market for as long as the car-as-plane concept has existed.
First, there are the aerodynamic and technological challenges of making a vehicle perform as both a car and a plane. The key problem is figuring out how to make it light enough to fly but stable enough to drive along highways.
Then there's the legal hurdle: "People can create their dream machine, but how is it regulated?" asks Dick Knapinski, spokesman for the Experimental Aircraft Association in Oshkosh, Wis. "Do they need certification from the DMV or the FAA? Do you take off from the street in front of your house or drive to the nearest airport? The regulatory structure isn't set up right now for the mass distribution of such a vehicle."
And finally, there's not a lot of evidence that business travelers -- the ideal customer -- want the product. That makes it hard for entrepreneurs to attract investors, especially in the current lending environment.
"As the technology, materials, and possibilities continue to expand, it's out there, but I don't see flying cars happening within the next five years," says Knapinski.
A tough sell
The biggest problem flying car firms face is convincing the market that their contraptions are more necessity than novelty.
"For a hundred years private airplanes have been used as a luxury or a toy," says Mitchell LaBiche, a mechanical engineer in Alvin, Texas, who has been working on his Flying Sports Car No. 1 for nearly 20 years. "Unlike the utility of cars, planes have never been adopted into the mass market. Our FSC-1 is targeted at trying to make airplanes useful."
The basic idea behind flying cars is a pragmatic one: Save travelers the hours they waste by flying commercially. Firms like Moller International, based in Davis, Calif., are working on space-age vehicles that can vertically lift off from a driveway, oil rig platform or skyscraper deck.
But until the government develops an interstate highway system in the sky, most flying car entrepreneurs are focusing on infrastructures already in place, like the 5,200 small airports scattered across the country.
"Every town in America has an airport that's underutilized," says Jim Milner, founder of Milner Motors, a Bethesda, Ma., and Vancouver, Wash., company developing a four- to five-seat AirCar. "The idea is that you have the car parked in your garage, drive to the airport, extend the wings and go, landing at the airport nearest to your destination."
The costs, though, are prohibitive to many travelers. First-run models will probably range from $100,000 to $200,000, and the price tag for obtaining a sport pilot license runs from $2,800 to $3,500, according to the EAA. Then, says Knapinski, there's the issue of folks getting comfortable with flying. "It's something that happens when there are hundreds, if not thousands of these cars on the road and in the sky," he says.
Finding capital
Given the cost building, testing, and certifying a new flying machine -- a few million dollars to construct a prototype, then millions more to get it FAA-certified -- all flying car companies launched to date have eventually run out of cash.
Ken Wernicke, a former Bell Helicopter Textron engineer-cum-entrepreneur, made the cover of Popular Mechanics in the 1990s for his work on his Aircar, which featured groundbreaking wing technology that made it easier to transition between flying and driving. After building a model and sustaining many wind-tunnel tests, he shelved the project in the late 1990s.
"We ran out of money, had zero investors. Perhaps I wasn't much of a salesman," he says.
Today's generation isn't faring much better. While the company won't release specifics, Terrafugia says it closed two small rounds of angel funding this year but is searching for equity partners to help sustain certification testing.
Robin Haynes, a Sacramento-based serial entrepreneur who has been working on his Skyblazer concept for nearly 20 years, needs about $5 million to build a working prototype. Branko Sarh, a senior technical fellow at Boeing (BA, Fortune 500) in southern California, needs $10 million to advance his sports car-like Sokol A400. And LaBiche has already invested millions into his FSC-1, but needs cash to fly his concept model.
"A brand-new market -- it's not a cheap thing to develop," he says. "And this is probably the worst time to raise money."
It's easy to blame the lack of investment capital on the economy -- the National Venture Capital Association (NVCA) recently reported that fund raising among venture firms and is at its lowest level since 2003 -- but some investors say there's another reason why these innovators are facing hard times.
"For most venture capitalists, there has to be a strong demand for the technology they're investing in, regardless of the economy," says Emily Mendell, VP of strategic affairs at the NVCA. "In terms of automobiles, VCs are really focusing on alternative energy and making the cars that already exist run better."
Even so, flying car tinkerers aren't giving up. Investing in the aviation industry might "be the easiest way to turn $100 into $10," laughs LaBiche. "The last barrier we have to break is get to get people to understand that we're not just trying to make another airplane. We're building a whole new industry that makes airplanes more useful."
Photo gallery: Not ready for takeoff

To write a note to the editor about this article,
click here
.