GM focuses on the Volt
The unveiling of one of GM's most important new products came just hours after its CEO quit.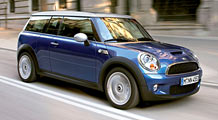 Kelley Blue Book predicts that these models will hold their value better than others in their classes.
Find your next Car

NEW YORK (CNNMoney.com) -- General Motors tried to keep the focus on its cars at the 2009 Los Angeles Auto Show even as the carmakers' plans were disrupted by the abrupt resignation of its chief executive just the afternoon before.
Fritz Henderson had been scheduled as the keynote speaker for the Auto Show's opening day breakfast. Instead, GM vice chairman Bob Lutz took his place and quickly dispelled any notion that he might shed light on the previous day's drama.
"I know that all of you would like the true inside story of what transpired at General Motors yesterday," Lutz said "and I'm not going to give it to you."
Lutz did acknowledge that he was "personally saddened" by Henderson's departure.
"Fritz is, without question, a great executive," Lutz said. "and one of the finest executives I've ever worked with."
The focus of his talk though, was cars and "the electrification of the automobile."
Lutz noted the automakers' various electric car programs, including international partnerships with Reva Electric Car Company in India to develop a small electric car for the Indian market and the opening of a China Science Lab to help develop high tech cars in China.
Interest in Henderson's fate was unabated among journalists present at the show, though, said Jessica Caldwell, a senior analyst with the automotive Website Edmunds.com. Caldwell attended the opening speech.
"You could tell in the room that people just wanted to know the dirt rather than about the product," she said.
Volt moves to center stage
The Chevrolet Volt, which GM calls an extended range electric car, was shown in a presentation shortly following Lutz's speech. Many journalists had already been treated to test drives in the car the previous night.
The Volt, which will is scheduled to go on sale in late 2010, will initially be sold in California as well as in several other markets to be announced later, GM said at the whow.
GM had previously announced that the Volt would not go on sale nationwide all at once. Instead, the automaker will take time to gradually increase production of the cars.
"It is natural that California is the lead market for Volt," said Brent Dewar, GM vice president for the Chevrolet brand said at the Volt's introduction later Tuesday morning. "Not only is it the largest automotive market, Californians are known to be leaders in adopting groundbreaking new technologies,"
GM said it was working with several utilities around the country and the Electric Power Research Institute, an industry group, in a research project to prepare for the Volt's national roll-out. The research program will begin at the same time as GM's first retail sales of the Volt.
Government help at the local and national levels will be needed to make a car like the Volt a commercial success, said Lutz in a question-and-answer session following his speech.
First, federal gasoline taxes would need to be higher to push the price of fuel up to the point that paying the extra cost of a battery-powered car would be worthwhile.
"We're not advocating that," he said, "but if we don't do that it's going to get very difficult to sell these vehicles."
The other requirement, Lutz said, would be for charging stations in municipal parking garages and in metered parking spaces so that drivers will have places to charge their cars other their own garages.
"Right now, the knock on electric cars, and there's no real counter to this," said Lutz, "is that there's no real place to charge for those who live in condos and apartment buildings."
The Volt has a 4-cylinder gasoline engine to provide driving range beyond the 40 miles it can manage on its battery pack alone. The purpose of that arrangement is to alleviate "range anxiety," or drivers' fear that the car will run out of electricity while they're away from home.
Having available out-of-home charging will make the Volt and other electrically-powered cars a viable option for buyers who live in apartment buildings or other homes without access to a private garage for charging.
With the Volt and other new cars to talk about, Henderson's departure provided an unfortunate distraction at what should have been an important show for GM, said Caldwell.
"What really matters is the Volt presentation and how well that car is going to do in the marketplace," she said.

Features

These Fortune 100 employers have at least 350 openings each. What are they looking for in a new hire? More

It would be the world's second-biggest economy. See how big companies' sales stack up against GDP over the past decade. More