A Chinese-owned GM, it could happen
As Chinese automakers eye bargains around the world, some think they could make a play for GM once it goes public.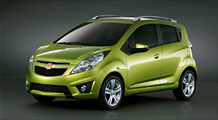 General Motors recently showed reporters and select members of the public what it plans to build over the next two years.
NEW YORK (CNNMoney.com) -- GM could one day be Chinese owned.
A shocking concept for the ultimate all-American company, but one some auto industry experts say isn't too far-fetched.
"I can tell you right now the Chinese are shopping heavily in the U.S. auto sector," said David Cole, chairman of the Center for Automotive Research, a Michigan think tank.
Cole said such a deal isn't imminent and wouldn't happen until GM starts selling shares to the public, likely a year or more from now. But he says buying GM would be a major opportunity for the nascent Chinese auto industry.
"The Chinese have a lot of our money and they're looking to invest it," he said.
The Chinese have already shown an eagerness to buy some of the damaged brands being cut loose by U.S. automakers. GM is in the process of finalizing the sale of its Hummer unit to Sichuan Tengzhong Heavy Industrial Machinery. Ford Motor (F, Fortune 500) is in talks to sell its Swedish car unit Volvo to Chinese automaker Geely.
Consolidating power in China
The Chinese industry is extremely splintered, with more than 100 automakers, some no more than regional players. But the Chinese government is pushing the industry to consolidate; something experts think will greatly reshape the industry in the next few years. And the new larger players will become even better positioned to make a play for troubled automakers around the globe.
Cole isn't saying that GM would be China's top purchase target in the near term. Other experts see it as more likely for the Chinese to buy a second-tier Asian or European manufacturer, or perhaps even Chrysler if its combination with Fiat Group doesn't go as well as planned.
But a Chinese-owned GM wouldn't be a shock to Bob Schulz, the top automotive credit analyst at Standard & Poor's, not after all the other changes the company and the industry have seen in recent years.
"Assuming there's no government restrictions on something like that, anything is possible," said Schulz.
It wouldn't be a cheap purchase, despite all the company's losses in recent years. Rod Lache, auto analyst for Deutsche Bank, recently estimated that based on the company's bond prices, the market is now valuing it at about $42 billion. That price could rise assuming sales improve and the company returns to profitability before it sells shares.
Michael Robinet, VP, global vehicle forecasts, CSM Worldwide, wouldn't comment on which global automakers the Chinese might be interested in buying, but he agreed there's a lot of interest within the industry for such purchases beyond the few small damaged brands purchased so far.
Such purchases would give the Chinese access to needed technology, as well as auto plants around the globe to serve various markets. He said the dealership and other distribution networks are also very important for China's hopes to eventually become a global player.
"It's all about ease of entry into new markets," he said. "It's much easier if they buy an established distribution channel rather than introduce their cars into the U.S. or European market."
China: World's biggest market
China has moved ahead of the United States this year as the world's largest market for sales of cars and light trucks. Even if there is a rebound in U.S. sales in coming years that puts American car buyers back in the lead, no expert thinks they'll be able to stay ahead of Chinese buyers for very long, especially with so many Chinese still without cars.
"The potential for U.S. auto sales is dwarfed by the growth potential of China," said Kim Corth, president of auto consultant IRN.
China is arguably already the most important market for GM, in terms of both growth and profits.
The company has sold 1.5 million vehicles in China through the first 10 months of the year, up 60% from a year earlier. By some measures GM and its joint ventures have the largest market share in China, and its China sales now trail U.S. sales by only 14%.
While GM officials say they expect Chinese sales growth to slow and U.S. sales to rebound in the coming years, it's not tough to see GM selling more vehicles in China than in its home U.S. market, perhaps as soon as the next decade. Already the company sells far more vehicles overseas than it does in North America.
More importantly, China is already in the lead for GM in terms of profits. While it does not break off earnings from China specifically, the country was the major driver of the $429 million it made in the Asia-Pacific region in the third quarter, which ran from its emergence from bankruptcy July 10 through Sept. 30.
The rest of GM's overseas auto operations lost a combined $192 million in the same period, while its North American losses came to $651 million during that period.
All that strength in China could leave GM's U.S. ownership somewhat vulnerable. If GM's major Chinese partner, SIAC, wanted to buy a controlling stake in GM, the company would have a difficult time saying no, given its importance to the company's future.
The federal government took a 61% stake in GM in return for the $50 billion in pumped into the company to keep it operating late last year and through its bankruptcy reorganization earlier this year.
Officials from both the Obama administration and GM have said the intention is for GM to have an initial public offering as soon as the second half of 2010 in order to let shareholders, including the Treasury Department, sell their shares as soon as possible. But it is also unlikely that even those eager sellers would dump all their shares at once, so it could take some time after the IPO for a majority of GM to be available on the open market.
GM spokeswoman Renee Rashid-Merem wouldn't comment directly on the idea of a Chinese-owned GM.
"Clearly we've had successful partnerships with the Chinese joint ventures and we're looking to that market for growth," she said. "But relative to an IPO and who might buy into the company, we're not going to comment on any of those particulars."
Of course there are plenty of hurdles to a Chinese purchase of a company as large and symbolically important as GM. One would be political.
"I think there would be a national outcry in that regard," said IRN's Corth, who points out the backlash when Chinese oil company CNOOC tried to buy Unocal in 2005. GM, despite its troubles, is far more of a U.S. icon than Unocal.
But when the China-Unocal deal was blocked, there was a U.S. buyer, Chevron, ready to step in and buy the company. There's not likely any U.S. company that would be interested in buying control of GM.
The Treasury Department, the union-controlled trust funds and the former GM bondholders who got stock in company in the bankruptcy process are all on record wanting to sell their stakes in the automaker as soon as possible. Those three groups hold almost all the GM shares.
Beyond those political considerations though would be the question of whether any Chinese automaker feels it is ready to take on a challenge the size of GM.
"They're a little ways away from a purchase of that size," said Tim Dunne, an expert on the Chinese auto industry at J.D. Power & Associates. "They're still getting their own feet wet in terms of being automakers. They know how tough it is to manage a company the size and complexity of GM."

Features

These Fortune 100 employers have at least 350 openings each. What are they looking for in a new hire? More

It would be the world's second-biggest economy. See how big companies' sales stack up against GDP over the past decade. More