Obama to business: We need jobs
President brings together business leaders and policymakers seeking solutions to rising unemployment - says government can't do it alone.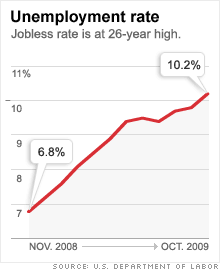 NEW YORK (CNNMoney.com) -- President Obama called on business leaders Thursday to help the administration kickstart hiring as policymakers contend with rising unemployment that's weighing down the economy.
Some 130 executives, economists, small business owners and nonprofit officials gathered for the afternoon jobs summit at the White House on the eve of the government's November unemployment report. The nation is expected to have lost another 114,000 jobs, with unemployment remaining at 10.2%, the highest in 26 years, according to an economists' survey.
"While I believe that government has a critical role in creating the conditions for economic growth, ultimately true economic recovery is only going to come from the private sector," Obama said. "We don't have enough public dollars to fill the hole of private dollars that was created as a consequence of the crisis."
The employment picture is certainly grim. Nearly 16 million Americans are out of work, one-third of whom have been unemployed for more than six months. There are now six workers competing for every job vacancy.
Obama and lawmakers are searching for a way to stem this unrelenting job loss, which is casting doubt on the effectiveness of many of his economic programs, from his $787 billion stimulus plan to his $75 billion foreclosure prevention initiative.
Ideas for spurring job creation abound. They range from giving businesses tax credits for hiring workers to pumping millions into state and local economies. One of the top priorities is extending unemployment benefits.
The president said he would speak next week about several ideas that have already surfaced.
"I'm not interested in taking a wait and see approach when it comes to creating jobs," Obama said. "I want to take any reasonable step to accelerate job creation."
What was discussed
The guest list on Thursday included CEOs from top companies in a variety of sectors, including American Airlines' Gerard Arpey, Google's Eric Schmidt, Xerox's Ursula Burns and AT&T's Randall Stephenson. Also invited were Teamsters leader James Hoffa, Allentown, Pa., Mayor Ed Pawlowski, former Fed vice chairman Alan Blinder and Harvard economist Lawrence Katz.
The guests also include small business owners, academics and non-profit leaders.
After the president's speech, participants broke into roundtable discussions on green jobs, small business employment, infrastructure and exports. Also, breakout groups looked at ways to encourage business competitiveness and to better prepare workers for the economy of the future.
The sessions were led by top administration officials, including Treasury Secretary Tim Geithner, Council of Economic Advisers Chairwoman Christina Romer, Labor Secretary Hilda Solis and Energy Secretary Steven Chu.
Among the issues that emerged were the lack of credit available to small businesses. Banks are hesitant to extend credit because these loans often look risky to regulators, Google's Schmidt told CNNMoney after the forum. The government can reinvigorate lending with a few small changes to the regulations, he said.
"The number 1 priority is to get banks lending to small businesses because small businesses create the majority of jobs in the United States," Schmidt said.
Also discussed was the uncertainty plaguing businesses because of legislative and regulatory changes being discussed in Washington, D.C.
"One of the overriding thoughts in our forum was that there's uncertainty that there's such an aggressive legislative agenda that businesspeople don't really know what they ought to do," Fred Lampropoulos, chief executive of Merit Medical, said during the closing session.
"In fact, one CEO said that he thought he has to kind of wait and may have to restructure his business - this is a large multinational pharma company - and that uncertainty is really what's holding back the jobs," Lampropoulos said.
Though many issues were discussed Thursday, just how much Washington can do to boost hiring remains to be seen. The administration and Congress are tied up with health care reform and foreign policy issues. And their ability to institute new programs will be hampered by the nation's record budget deficit.
Also, the president faces stiff opposition from Congressional Republicans. They continuously point to the rising unemployment rate as a sign that Obama's economic policies have failed.
At an alternate jobs forum held Thursday, Republican leaders and right-wing economists decried the administration's stimulus package, health reform efforts and other measures as "job killers."
"The single best jobs action that President Obama could take would be to reverse course on a dangerous agenda of debt-financed spending, crippling regulation, expensive mandates, and intrusive government expansion," said Doug Holtz-Eakin, who advised Sen. John McCain, R-Ariz., on economic issues during his presidential run last year.

Features

These Fortune 100 employers have at least 350 openings each. What are they looking for in a new hire? More

It would be the world's second-biggest economy. See how big companies' sales stack up against GDP over the past decade. More