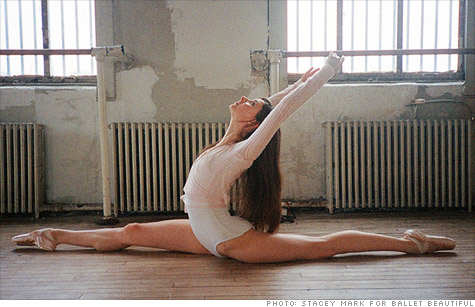 Mary Helen Bowers' fitness company Ballet Beautiful took off after she trained Natalie Portman for the film "Black Swan."
New York (CNNMoney) -- It's not easy running a fledgling business and working with a big celebrity at the same time.
But when it comes to balance, ballerina Mary Helen Bowers is a pro.
Three years ago, the New York City Ballet dancer and owner of fitness company Ballet Beautiful got a chance to train Natalie Portman for her role in the film ''Black Swan.'' Without hesitation, Bowers leaped at the opportunity.
Still, the decision was fraught with challenge. Bowers, now 32, was a hands-on fitness instructor in New York City, building up her client list. She knew it would be difficult to maintain her schedule and train Portman at the same time.
Portman's request, after all, wasn't a small one: She wanted to be transformed into a ballerina. And for Bowers, that would mean almost a year traveling with the actress -- sometimes across the country in Los Angeles -- training her five hours a day, six days a week.
A delicate balance
Ever since she was a teenager, Bowers has been the epitome of grace under pressure.
At the age of 15, she was invited to join the New York City Ballet, and for 10 years she danced with the company all over the world.
When she was 26, she went to Columbia University and graduated early with a degree in English literature. She started Ballet Beautiful in 2008 shortly after .
Ballet Beautiful offers a fitness training program that promises to build a ballerina body ''strong, lean and long'' by targeting ''ballet muscles'' like the inner thighs, backs of the legs and abdominals.
She initially opened Ballet Beautiful, a ballet training business, with $10,000. Almost all of her clients came by word-of-mouth. The business grew quickly, tripling its members each year.
Then a mutual friend connected Portman to Bowers, and everything changed.
Portman knew that "Black Swan" was in the pipeline. But she wanted to get her ballerina training started early. So she offered Bowers a chance of a lifetime.
At the end of 2008, Bowers went to work with Portman, who was initially finishing up another film. She integrated hours of training into Portman's regular life. ''We did this for six months, leading up to the filming of 'Black Swan' in New York,'' said Bowers.
''Black Swan'' is a film about two ballerinas competing for a part in Tchaikovsky's ''Swan Lake'' ballet. Portman, who played the lead character, would go on to win a best actress Oscar for her role in the movie.
A year before filming began, the pair worked on choreography, pointe work and Ballet Beautiful exercises, to give the actress the conditioning, strength and flexibility she needed to play the part.
The traveling and training with the actress was time-consuming. When she had to be out of town with Portman, Bowers used technology.
She continued to train her students -- both individually and in small classes -- using iChat, an instant text messaging system, which has video and audio conferencing capabilities.
When her year with Portman ended, she developed a custom software that enabled her to launch a virtual studio in January, offering classes online that can accommodate up to 12 students at the same time.
Growing by leaps and bounds
The association with the film, said Bowers, expanded her market exponentially. Publicity surrounding the training convinced non-dancers that Bowers' fitness regimen could work for them.
People from around the globe became interested after ''Black Swan,'' said Bowers. ''Demand is much broader.''
Ballet Beautiful's membership has skyrocketed in the last six months -- up a whopping 5,000 percent. Today, Ballet Beautiful has nearly 8,000 clients, Bowers said.
''The movie created a lot of excitement and renewed interest in ballet," said Bowers. ''And that's been tremendous for my business.''
Celebrity associations are "the single best way to market a company, said Bob Olejar, CEO of Social Hill, a celebrity product placement firm in Hollywood, Calif. ''If you see a celebrity using some service or product and you want to be like them, you will adopt their practices,'' he said.
Despite that, Bowers believes her success can't depend solely on that connection. It's a mindset that will likely serve her well.
''The movie won't be around forever,'' said Olejar. She will have to find a way to keep people interested.
That's exactly what she plans to do. She has developed a set of streaming videos for purchase, like her ''Swan Arm Series'' and is working on a series of DVDs. She is also looking into a Ballet Beautiful book.
In the end, Bowers wants Ballet Beautiful to be "a lot broader than just another fitness" company.