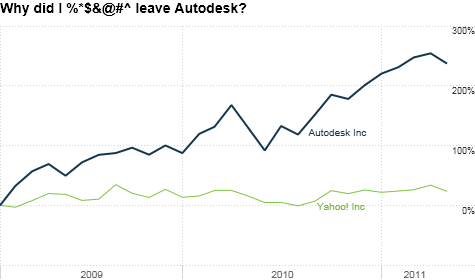 Click the chart for more on Yahoo
NEW YORK (CNNMoney) -- Do you think Carol Bartz regrets moving to the Purple Profit Eater?
I submit for your amusement (unless you are a Yahoo long) the above chart.
It shows the stock performance of Autodesk (ADSK) -- Bartz' old company -- versus Yahoo (YHOO, Fortune 500) since the day Yahoo announced it had named Bartz as its fourth CEO since 2001.
Autodesk has more than doubled during that time frame.
Autodesk reported solid earnings after the bell Thursday -- although its stock did fall Friday.
Yahoo, on the other hand, is up about 35%. That doesn't just lag Autodesk. It trails the broader market by a wide margin as well.