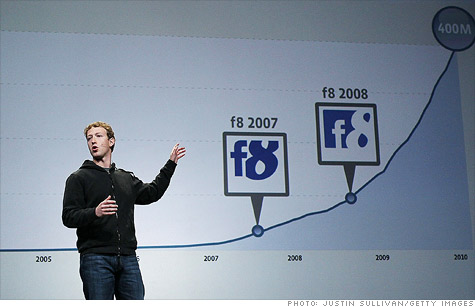 Facebook founder Mark Zuckerberg uses the company's annual F8 gathering to launch new features and map out Facebook's plans.
NEW YORK (CNNMoney) -- It's official: After months of speculation about when -- and if -- Facebook's annual f8 developers' conference would take place, the world's largest social network finally named its date.
On September 22, developers will gather in San Francisco to hear about Facebook's road map for its platform. In past years, the annual event has served as a launching point for new features that have defined the social network and turbocharged its growth.
At f8 2010, held last April, Facebook CEO Mark Zuckerberg announced the universal "like" button and a new social paradigm called "Open Graph," featuring integration with more than 30 content partners. At the time, Facebook had 400 million active members. It now has 750 million.
Any time Facebook's key developers and a gaggle of press gather for one of Zuckerberg's keynotes -- which he always deliverers casually attired in one of his signature hoodies -- there's intense speculation about what the social network's next move will be. This year, developers will be especially attuned for news around Facebook Credits, Facebook's in-app native currency that's fast becoming a multi-million-dollar virtual economy.
Attendees will also be chatting about IPO plans for Facebook, which is poised to its either go public or begin disclosing its financial results in early 2012.