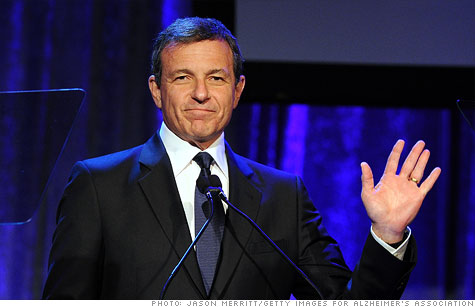 Disney CEO Bob Iger will be waving goodbye in less than four years.
NEW YORK (CNNMoney) -- The Walt Disney Co. on Friday announced that Bob Iger will step down as CEO in March 2015.
Disney, the media giant that owns ABC and ESPN, put in motion a succession plan to replace Iger. In addition to his role as CEO, Iger will take over as chairman in March 2012. He will then step down as CEO at the end of March 2015, and he will leave his chairman position June 30, 2016.
Iger began his career at ABC in 1974, and he joined Disney when it purchased ABC in 1985. He quickly moved up the ranks, becoming chairman of ABC in 1996 and president of Disney International in 1999.
After former CEO Michael Eisner stepped down in 2005, Iger was promoted to replace him. At that time, Iger signed a contract that was due to expire in January 2013, but Disney's board said it extended Iger to make the transition "seamless," and maintain continuity of the company's business strategy.
"The board is delighted that the company has been able to secure the longer-term continuation of Bob's unique blend of experience and leadership skills," said John Pepper, Disney's outgoing chairman, in a prepared statement. "It is for these reasons ... the board has determined that Bob should assume the additional role of chairman."
Shares of Disney (DIS, Fortune 500) fell about 1% Friday afternoon.
Iger's tenure at Disney has largely been celebrated. Despite a tough environment for media companies, Disney has made good headway into the digital age. Under Iger, Disney has taken full advantage of the success of its cable networks -- particularly ESPN -- which represent about a third of the company's revenue.
Over the past five years, its stock has outperformed most of its media rivals, including News Corp. (NWSA, Fortune 500), CBS (CBS, Fortune 500) and Time Warner (TWX, Fortune 500), the parent company of CNNMoney.
The company's purchase of Pixar in 2006 paid off well for the company, and it helped forge a close relationship between Iger and Pixar's former CEO and Apple (AAPL, Fortune 500) co-founder Steve Jobs.
When Jobs' death was announced on Wednesday, Iger called Jobs "a great friend as well as a trusted advisor." Jobs had been Disney's largest individual shareholder as well as a member of its board of directors.