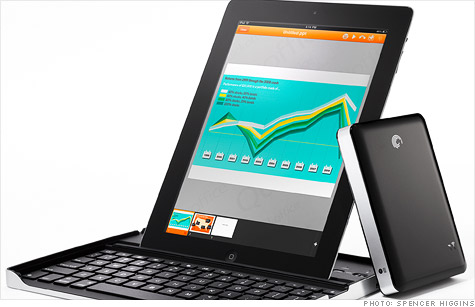 (MONEY Magazine) -- Can't justify buying a $500 tablet simply for entertainment? Then take it seriously: Make an investment in these add-ons and get down to business.
1. A case and a keyboard
Two-fingered typing on an iPad's screen may suffice for quick e-mails, but real work requires a real computer feel.
Turn your tablet into a laptop with the Logitech Keyboard Case for iPad 2, an aluminum protector for your tablet that also works as a wireless keyboard (not always allowed for use in flight) and stand.
$100; logitech.com
2. Essential software
Business computing inevitably means running across Word, Excel, and PowerPoint.
Be prepared: Quickoffice Pro HD lets you create and edit documents in formats compatible with Microsoft Office. Store work on the iPad or use online services such as Google Docs and Dropbox.
$20; quickoffice.com
3. More memory
An iPad stuffed with videos and other downtime fun may not have space for important work files.
Best tech deals -- plus 4 expert picks
No problem: The Seagate GoFlex Satellite portable hard drive holds 500 gigabytes of business and personal files and runs for five hours on an internal battery. Built-in Wi-Fi lets you stream files wirelessly to as many as three iPads.
$200; seagate.com
Is an iPad up to the task?
What you can do: Get substantive work done -- reports, spreadsheets and business presentations -- without having to tote your notebook computer. You can also check e-mail and surf the web.
What you can't do: Edit Office documents using every last feature you have on your primary computer.
Questions about buying tech? Ask The Help Desk.
You can't transfer edited files directly to a USB hard drive or memory stick. And a first-generation iPad won't work as well as an iPad 2.
More business tools
The big screen
Your big PowerPoint presentation won't have much impact if you need to pass your tablet around the room for everyone to take a look.
The Apple VGA Adapter makes it possible to display everything you can see on your iPad 2 screen (but fewer things from a first-generation iPad) on a projector, monitor or flat-panel TV.
$30; apple.com
Power aid
No business gets done on a dead battery.
The tiny Sanyo eneloop Mobile Booster KBC-L2 pumps out more than four hours' worth of backup juice that you can use to power the iPad (and a range of other portable devices), two at a time.
$80; us.sanyo.com