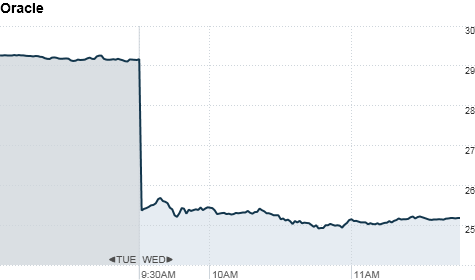 NEW YORK (CNNMoney) -- A dismal quarter from software giant Oracle dragged technology stocks down on Wednesday, but tech analysts say the sell-off is overdone.
Oracle's key sales metric, revenue from new software licenses, rose a measly 3% last quarter, compared to the 11% that Wall Street analysts had expected. Last year, new license sales increased 21% in the same quarter.
Shares of Oracle (ORCL, Fortune 500) sank 14% Wednesday on the news, dragging down the broader technology market with it. The Nasdaq Composite index, which is technology-heavy, fell 2% by mid-day.
But Oracle said its licensing problem was not a demand issue. It attributed the sales slowdown to the extra approval steps corporate IT managers now have to go through to finalize deals, which tends to occur in times of economic trouble.
Red Hat (RHT), designer of a popular version of the Linux operating system for servers, also said customer demand wasn't the driver of the weak outlook it delivered Tuesday night. Red Hat cited currency conversion as its challenge. Red Hat shares fell 6% on Wednesday.
Despite a worldwide economic slowdown, IT spending in 2012 is expected to rise at about 50% of companies, according to Nucleus Research. CDW's IT Monitor survey, released earlier this month, found that 50% of medium-sized and 48% of large businesses are planning large-scale IT investments within the next six months.
"I don't think we need to be worried about Oracle," said Rebecca Wettemann, analyst at Nucleus Research. "Companies are planning to spend more on tech in 2012."
Oracle is also in the middle of a transition in its product line. "It's natural for Oracle to see a drop in maintenance spending now that Fusion is here," Wettemann said, referring to Oracle's new software suite.
Others agreed that Oracle's results were no "oracle" for the rest of the sector.
"There were likely some execution issues at Oracle that may have made this worse than other companies that have reported so far," said Rick Sherlund, analyst at Nomura Securities.
Still, investors remained cautious, sending SAP (SAP), one of Oracle's chief rivals, down 6% Wednesday. Other competitors sank too. IBM (IBM, Fortune 500) fell 4%, CSCO (CSCO, Fortune 500) dropped 2% and Hewlett-Packard (HPQ, Fortune 500) fell 3%.
There are some scattered signs of worrisome macroeconomic trends. Texas Instruments (TXN, Fortune 500) and several other smaller tech companies, for instance, cut their sales forecasts earlier this month on lower demand.
Yet other companies that have delivered bad news appear to be suffering through their own, independent issues.
Intel (INTC, Fortune 500) lowered its sales forecast earlier this month, but said that demand wasn't the problem. It pinned the blame on an ongoing global hard drive shortage.
Hewlett-Packard, which lowered its outlook late last month, is still dealing with the aftershocks of its executive changes. Research In Motion (RIMM) slashed its guidance last week, but that company is facing a host of problems with its product mix.
Nomura's Sherlund said Oracle's problems appear to be isolated and may be short-term. The company signaled that it thinks it can do a better job next quarter, he said.