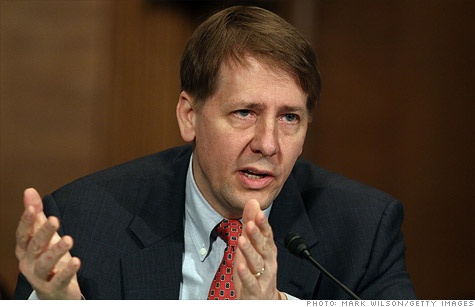 Consumer bureau chief Richard Cordray announced the bureau will look at bank overdraft protection fees.
WASHINGTON (CNNMoney) -- The new consumer bureau said Wednesday that it plans to target a kind of bank fee that makes customers see red: Overdraft protection penalty fees on checking accounts.
The Consumer Financial Protection Bureau, in announcing the inquiry, is also seeking public input on a new sample disclosure text on checking account statements.
The disclosure would highlight exactly what the fee is and how much the account was overdrawn to incur it. That information would appear in a so-called "penalty fee box."
"Overdraft practices have the capacity to inflict serious economic harm on the people who can least afford it," said the bureau's chief, Richard Cordray. "We want to learn how consumers are affected, and how well they are able to anticipate and avoid paying penalty fees."
Bureau officials had suggested last September that they planned to target overdraft fees.
Banks say they offer overdraft protection plans to spare customers the embarrassment of having their purchases denied because they have overdrawn their account. The purchase goes through, with a hefty fee ranging between $30 and $35, according to the consumer bureau.
Consumer advocates say overdraft protection is what can cause a $3 latte to cost close to $40 when customers overdraw their accounts and start racking up penalty fees.
The Federal Deposit Insurance Corp. found in 2008 that consumers who overdrew 20 or more times per year paid an average of $1,610 in overdraft fees. That report spurred anger in Congress and among consumers and helped spur the Federal Reserve to make the first big changes to overdraft plans in 2010.
All banks now must ask customers to opt in to overdraft protection plans for ATM and most debit card transactions, instead of automatically enrolling them. However, most banks still automatically sign up customers for overdraft protection on recurring bills paid online.
The consumer bureau plans to review those opt-in plans, especially the marketing material that promotes them.
The bureau said it will also look at the bank practice of clearing large purchases first. That practice, especially for a bank account close to being overdrawn, often makes it more likely that customers trigger more fees for more smaller purchases.
The bureau will also look at whether consumers know how to avoid overdraft fees and clearly understand the terms of the fees.
Finally, the probe will cover why overdraft fees hit so many low-income and younger customers. The 2008 FDIC study found that 46.4% of young-adult bank customers were hit with overdraft fees, and of those, 15% recorded more than 10 overdrafts in one year.
Bank lobbyists said that bank overdraft programs have already changed quite a bit. In addition to making changes mandated by the Fed, several major banks have stopped processing the biggest purchase first on overdrawn accounts.
They said studies have shown that customers say they want their transactions paid and are willing to pay a fee to ensure that happens, said Richard Riese, senior vice president of the Center for Regulatory Compliance at the American Bankers Association.
"If this is a conversation, it's the beginning, not the end of a conversation," Riese said.
Scott Talbott, a senior vice president for government affairs at the Financial Services Roundtable, said that banks "are happy to work with the CFPB" to discuss how overdraft services are provided today.