(MONEY Magazine) -- The best part about winter is that I no longer have to endure the fall conversations with parents about how well their freshmen are "fitting in" at college.
I may lose a few friends for saying so, but Americans are too concerned with whether their kids are "finding themselves" -- at an average yearly tab of $17,100 (public, in-state) to $38,600 (private).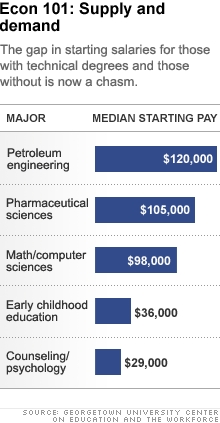 What we should be concerned about, in the words of Anthony Carnevale, director of the Georgetown University Center on Education and the Workforce, is the "misalignment between our education system and the labor market." The latter, he notes, "is demanding much more specific preparation" than students get.
One word: Engineering
Whether you, your child, or both are financing college, to earn a decent return on that investment your student needs to base academic choices at least in part on employment trends. Universities, which have an interest in maintaining the status quo, aren't leveling with families about which courses of study make the most financial sense. "We know more about this than we ever tell young people," says Carnevale.
The plain truth is that if your child has the aptitude, he should pursue an engineering degree or study math and science. End of discussion.
Those majors can yield starting salaries of $50,000 and above. Accountants, actuaries, software developers, pharmacists, and nurses are also in high demand and highly compensated.
Of course, not everyone can or should go into those fields. And I'm not saying that the critical-thinking skills gained through a traditional liberal arts education aren't valuable -- but they won't be enough.
Soon 45% of all new U.S. jobs will require a bachelor's degree and further career-specific training, or an undergraduate degree in a high-demand area. Today 25% of our workforce meets this benchmark.
Two words: Three years
Given the need and the expense of graduate training, you must think about condensing your child's liberal arts degree into three years. It's a model popular in Asia, particularly for students who will study law or medicine.
Some U.S. universities offer concentrated degrees or structured ways to shorten the time and money spent on a B.A. Others suggest summer classes as a means to that end.
Yes, there's a risk to picking a course of study based on current data and projections. My wife's minor in Japanese seemed like a great idea in the '80s. Now it comes in handy at sushi restaurants. Fortunately for us, she majored in finance.
Still, given what college costs, you want the best chance at your investment paying off. At the least, make sure your kid knows the highest-paid English majors aren't poets; they're technical writers.
Do you know a Money Hero? MONEY magazine is celebrating people, both famous and unsung, who have done extraordinary work to improve others' financial well-being. To nominate your Money Hero, email heroes@moneymail.com.
Correction: An earlier version of this article overstated the starting salaries for graduates with engineering, math and science degrees at $90,000. While petroleum engineers can start above $90,000, in other fields beginning pay is in the $50,000-$70,000 range.