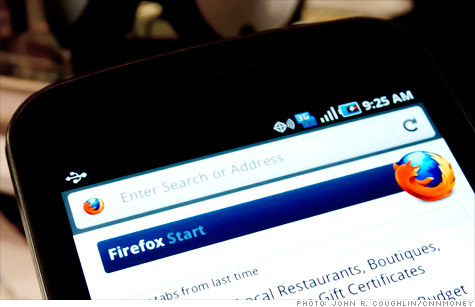 AT&T and other wireless carriers are feeling the crunch of soaring smartphone data usage.
NEW YORK (CNNMoney) -- AT&T increased the limits on smartphone data usage on Thursday, in an announcement that offered more clarity to customers who have been angry about throttled speeds.
AT&T (T, Fortune 500) first enacted slowdowns last summer in response to soaring data usage and the resulting spectrum crunch, but customers didn't know the exact limit. Thursday's announcement laid out who will get their data throttled, and when.
Unlimited data customers with a 3G or 4G smartphone will be slowed down if they use more than 3GB of data or more in a billing cycle. Those with next-generation 4G LTE phones can use up to 5GB before speeds slow down.
In both cases, AT&T returns the data speeds to normal at the start of the next billing cycle. As before, AT&T will send text messages to customers warning them before a slowdown.
Previously, AT&T slowed speeds for subscribers who reached the top 5% of data users for that billing cycle and geographic location.
Customers were outraged, arguing that the percentage method meant they had no way to know what the limit was -- until AT&T informed them via text message that they were in danger of exceeding it.
"What we did here is respond to what our unlimited plan customers told us, namely, to have more clarity in how all this works," AT&T rep Mark Siegel said in an e-mail.
In its announcement on Thursday, AT&T stressed that less than 5% of its smartphone customers use more than 3GB of data per month.
"Because spectrum is limited and data usage continues to soar, we manage our network this way to be as fair as possible," the statement said.
All wireless carriers are feeling the pressure of increased data usage. In June 2010, AT&T stopped offering its $30-per-month unlimited plan to new customers. But existing customers were allowed to keep it.
T-Mobile similarly canceled its unlimited data plan in April 2011, Verizon (VZ, Fortune 500) ended its unlimited offering in July. Sprint (S, Fortune 500) remains the lone national carrier that provides unlimited data for its customers.
But all of them have raised prices, ended perks or stiffened penalties within the last year. Sprint, for example, raised its early termination fee in December. Verizon canceled its New Every Two bonus discounts a year ago, and T-Mobile began throttling customers' speeds when they exceeded their data limits.