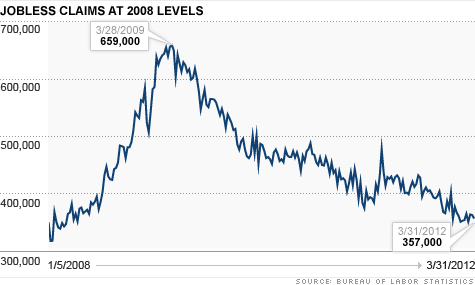 NEW YORK (CNNMoney) -- The number of people filing for unemployment benefits fell last week, pointing to continued job growth in March.
The Labor Department reported that 357,000 people filed for their first week of jobless claims, falling roughly in line with economists' expectations. That marks a decrease of 6,000 initial claims from the week before.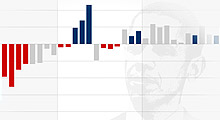 The U.S. lost 4.3 million jobs in President Obama's first 13 months in office. Track his progress since then.
Amid the worst of the recession in 2009, Americans at one point filed as many as 659,000 claims in one week. Since then, the job market has come a long way, albeit gradually.
Initial claims are now near levels not seen since April 2008, a sign that layoffs are slowing and hiring is picking up.
"Initial claims continue to head in one direction and that's what makes it beautiful," said Jennifer Lee, a senior economist with BMO Capital Markets.
Weekly jobless claims can be volatile, so economists often prefer to look at the average number of claims over a four-week period. That figure also fell.
Meanwhile, about 3.3 million people filed for their second week of unemployment benefits or more in the week ended March 24, the most recent data available. That's marks the lowest since August 2008.
The downward trend in unemployment filings raises hopes that employers continued hiring at a strong pace in March. The Labor Department is scheduled to release the latest update on job growth and the unemployment rate on Friday morning.
Economists surveyed by CNNMoney expect that report to show employers added 200,000 jobs in March and the unemployment rate fell to 8.2%.
In February, the economy added 227,000 jobs.