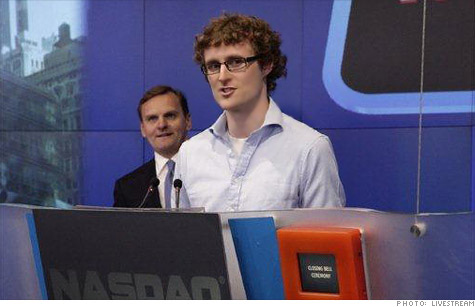 F.ounders conference leader Paddy Cosgrave rang the Nasdaq bell to close out his event's New York debut.
NEW YORK (CNNMoney) -- Most luminaries who get to ring Nasdaq's closing bell show up for the occasion in a suit and tie. Paddy Cosgrave did the honors last week wearing jeans and red Converse sneakers. It was a fittingly casual flourish to cap off the New York debut of F.ounders, one of the hottest events on the tech conference circuit.
The gatherings organized by Cosgrave -- an almost accidental tech networking impresario -- are less "conference" and more schmoozing marathons, with entrepreneurs from all over the world attending dinners, panels and parties until the early morning hours. Instagram pictures from the event, often called a "Davos for geeks," might as well be hashtagged #humblebrag.
When I received the invite, I asked a friend who'd recently attended, "So, how does this work?" I typically duck in and out of conferences depending on the event lineup and the news flow of the day.
His response: "Don't leave the group -- go wherever Paddy has arranged."
That turned out to include a private dinner hosted by Goldman Sachs (GS, Fortune 500), a philanthropic event held at Charity: Water's headquarters and one especially late night of dancing until well past midnight.
Get people into small groups and they'll talk more freely.
Anthony Noto -- who left his job as Internet industry analyst at Goldman Sachs to become the CFO of the National Football League, then returned to Goldman as co-head of its technology and media investment banking group -- spoke candidly about the Facebook IPO fiasco during a dinner where guests were seated at tables named after Irish towns.
"You need some kind of event to bring things back into balance, and this is it," Noto told the group. He thinks sky-high valuations for fledgling ventures will come back to Earth.
"Private valuations are going to correct," he said.
Recent attendees at F.ounders' flagship gathering in Dublin include Twitter's Jack Dorsey, YouTube's Chad Hurley and Netflix (NFLX) founder Reed Hastings. Last week's U.S. outing drew Etsy CEO Chad Dickerson, AOL (AOL) founder Steve Case and media queen Arianna Huffington. An invite to F.ounders is rarely ignored, even by some of the most self-proclaimed "heads-down focused on the product" entrepreneurs.
Cosgrave, who grew up on a farm in a small town in Ireland, has always been fascinated by technology. His interest stemmed from his father, whom he describes as having "an incredible obsession" with computers.
"He never wanted me to be a farmer, but wanted me to know everything about tech," Cosgrave recalls.
Cosgrave entered the tech realm by working on MiCandidate, a now-vanished startup that delivered real-time political content to news websites. He also runs Dublin Web Summit, an older, broader and less exclusive tech gathering than F.ounders.
As Cosgrave networked his way through the industry, he saw a gap in the packed conference field: there was no small, intimate gathering specifically focusing on entrepreneurs. "Europe has lots happening. but it's split into many cities," he says.
Cosgrave thinks conferences that bring together hundreds or thousands of attendees are "inefficient." He cites "quality control" as a key element in any successful event, and points to ex-Facebooker Dave Morin's theories around "the Dunbar number" -- the maximum number of social connections that an individual can meaningfully maintain.
Morin's current venture, social "journal" site Path, limits users to sharing with only 150 other people -- an inspiration for F.ounders, which caps its attendee count at 150.
Other tech events are also paring down their lists. Francisco Dao, who made his name organizing giant showcase events like Twiistup, switched tracks last year and launched "50 Kings," a micro-networking event series. The upcoming XOXO Festival in Portland offered just 400 tickets, and sold out in two days.
"I don't generally go to tech conferences," Liam Casey, CEO of PCH International, told me at last week's F.ounders gathering. "You meet everyone here, and get a sense of community and a huge respect for Paddy. It's a person organizing a conference, not an organization organizing a conference."
Cosgrave seems to have a track record of getting the right people to show up. His secret: Just ask.
At F.ounder's latest Dublin event, Bono led a pub crawl through the city. Cosgrave didn't jump through hoops to book the famed rock star. He simply happened to be sitting behind the singer at a local Dublin restaurant one evening.
"You've got to ask Bono to come to F.ounders," his friend whispered.
So Cosgrave asked. And Bono said yes.
It's that kind of serendipity that helps make a tech gathering white-hot -- but Cosgrave doesn't expect the moment to last. Like MySpace, even the most coveted conference ticket can easily become last year's news.
"All events are like a nightclub. F.ounders will have its time," the 29-year-old organizer says. "They [nightclubs] start off with a great group, and slowly but surely they will open up who anyone who will pay to attend."
F.ounders hasn't reached that point yet, and Cosgrave says he has no plans to widen the net. For now, when Paddy asks, founders say yes.