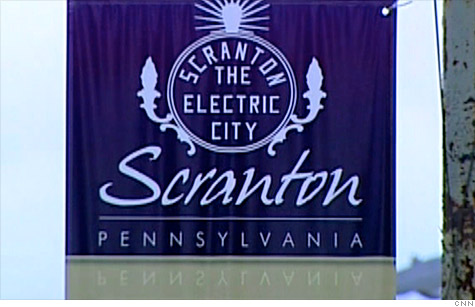 NEW YORK (CNNMoney) -- Scranton is broke.
Faced with a crippling cash flow problem and divided political leadership, one of Pennsylvania's largest cities distributed paychecks last week to city workers that cut wages to the legal minimum.
Scranton's 398 city workers -- including firefighters, police officers and the mayor himself -- were paid a reduced rate of $7.25 an hour.
The pay cut, which Mayor Chris Doherty has threatened since late June, was carried out even though a coalition of unions had been granted a court injunction that prohibited the mayor from slashing wage rates.
Doherty said he had no choice.
"We have enough money to pay minimum wage and, if more money comes in, we'll be happy to make those payments," the mayor told CNN affiliate WNEP-16.
The pay cuts are the latest, and perhaps most visible, consequence of what critics contend is years of financial mismanagement by the city's political leadership.
The current imbroglio has its roots in structural deficits and unpaid bills that have forced the city to rely on borrowing to stay afloat. But so far, banks haven't been willing to lend.
Lenders were spooked after the city council refused to make payments on debt issued by the city's parking authority. A flurry of resignations followed, and the bond trustee has been replaced.
But the short-term consequences of the dispute are now in full effect -- and the city is unable to borrow the money it needs to meet additional obligations.
One bank -- M&T (MTB) -- had been willing to offer financing, but negotiations collapsed after the city's political leaders were unable to agree on revisions to Scranton's so-called Recovery Plan.
The mayor's plan includes a 78% property tax increase and a hike on garbage fees. A majority of the city council is opposed to the plan, and the two factions remain at loggerheads.
(Related: State economic growth slowed in 2011)
Gary Lewis, a Scranton resident and consultant specializing in complex accounting for distressed assets, said the city is running out of options.
By his calculation, the city is facing a $20 million deficit next year, in addition to its pressing short-term funding needs. And the mayor's plan won't raise nearly enough money to cover the deficit.
"The city has a nasty habit of putting numbers in the budget that simply don't make sense," Lewis said.
Lewis, who writes a blog on the city's finances, estimated that Scranton had only $130,000 on hand at the start of the week. It also has $3.4 million in unpaid bills.
"This a cash flow problem and everybody involved is dragging their feet and making it a political issue," Lewis said.
City workers also blame the city's political infighting -- which appears to be endemic -- for Scranton's mounting fiscal problems.
"We're caught in the middle. They talk about a budget deficit, but that's not it," John Judge, the president of the International Association of Firefighters Local 60, said on Wednesday.
"[Mayor Doherty] is essentially being a baby. That's what it boils down to. He's been so used to having a council rubber-stamp the agenda and now that they're not, he wants to wreak havoc on everybody else," he said.
Lewis doesn't see many options for the city.
"I think the city is insolvent," he said. "We don't have enough money to meet our obligations. I don't know what we are going to do."
"It's just a bummer and it sucks to live here. This is my home."