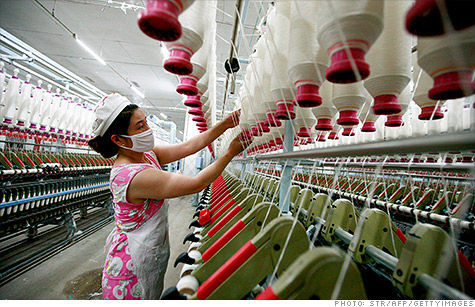 China's manufacturing sector showed signs of picking up in July, but remained in contraction, says HSBC in a preliminary report.
NEW YORK (CNNMoney) -- China's manufacturing industry showed signs of improvement in July, contracting at a slower pace than the month before, according to a preliminary bank report issued Tuesday.
HSBC said its Chinese purchasing managers' index, or PMI, rose to a 5-month high of 49.5 in July from 48.2 last month. The reading remained below the benchmark of 50, meaning that manufacturing is still in a state of contraction.
Hongbin Qu, chief economist for China and co-head of Asian economic research at HSBC, said the improvement suggests that measures to boost the economy are starting to work.
"That said, the below-50 July reading implied demand [is] still remaining weak and employment [is] under increasing pressure," Qu wrote, in his report. "This calls for more easing efforts to support growth and jobs."
One bright sign in the report was its output component, which rose to a 9-month high and signaled expansion.
The HSBC "flash" report precedes the government's survey on manufacturing, which is scheduled for release on Aug. 1.
Qinwei Wang, China economist for Capital Economics, said the improvement noted in the HSBC report appear to be "broadly based," with increased demand for factory goods, but with weak data on employment.
"Conditions in China's manufacturing sector have improved, according to today's flash PMI, although the recovery could not yet be described as strong," wrote Wang, in his report.