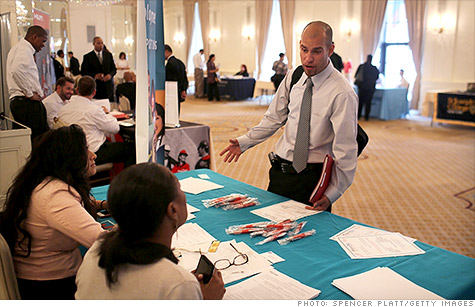 A job applicant speaks to perspective employers at a career fair in New York last week.
NEW YORK (CNNMoney) -- First-time claims for unemployment benefits fell slightly last week, bringing encouraging news for the job market.
About 361,000 people filed claims in the week ended Aug. 4, down 6,000 from the previous week, the Department of Labor said Thursday.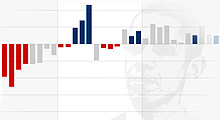 The U.S. lost 4.3 million jobs in President Obama's first 13 months in office. Track his progress since then.
That was also better than economists' forecasts for 375,000 claims.
Jobless claims are closely correlated with layoffs, so a drop is an encouraging sign that job cuts may be waning.
That said, the number can also be volatile from week to week.
Economists often prefer to look at a four-week moving average to smooth out the choppiness. That number had been falling since mid-June, but then rose slightly last week.
It will probably take several more weeks of declines before economists are convinced the job market improved significantly in August.
The unemployment rate was 8.3% as of July, even as businesses said they added 163,000 jobs that month. It remains to be seen, whether hiring has continued at that pace.
"The labor market is not riding a positive wave of momentum at the moment and we do not expect that to change any time soon," Thomas Simons, money market economist at Jefferies, said in a note to clients.
Meanwhile, 3.3 million people filed for their second week of unemployment benefits or more in the week ended July 28, the most recent data available.