The FCX Clarity fuel cell car is now available, but you're going to have to hit the Golden State to get one.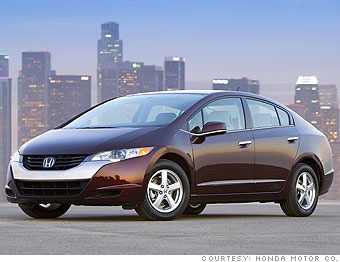 Honda began production of its new FCX Clarity fuel cell car Monday. The Japanese automaker will produce about 200 of them over the next three years. Honda would not say how many will make it to the U.S., but those that do will be leased only in Southern California.
The FCX Clarity converts compressed hydrogen gas into water in a process that releases a stream of electricity that powers the car. Fuel cell cars are "zero emission" vehicles, releasing only water vapor exhaust. It gets about 79 miles per "gallon equivalent" in city driving and 68 on the highway, according to Honda. (Electric cars are more efficient at lower speeds.)
In California, a three-year lease will run $600 a month, which includes collision insurance and maintenance.
Honda has previously estimated it will cost about $1 million to build each car.
General Motors already has a test fleet of about 100 fuel cell-powered Chevrolet Equinox SUVs in the hands of "ordinary consumers" in California, New York and Washington D.C.
We were able to test drive an early version of the Honda FCX last year in Washington D.C. The car Honda is now building is nearly identical.
NEXT: Strong at the start
Last updated June 16 2008: 10:04 PM ET
Email
|
Print
|

Digg this story
|

RSS