The Mini Crossover Concept offers some clues to a new addition to the Mini line-up.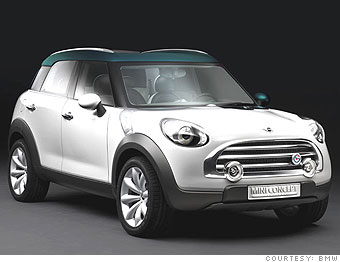 BMW's Mini division, maker of the tiny Mini Cooper, is preparing to venture into new territory. The company is expected to launch a new product, a crossover SUV, in 2010.
At the Paris Motor Show next month, Mini will show off a concept vehicle, the Mini Crossover, that offers a glimpse of what Mini off-road venture might look like.
The Mini Crossover concept is the first Mini model to stretch more than 13 feet, in length. That's the length of the Mini Clubman, an extended version of the Mini Cooper.
Still, this would make the Mini crossover one of the smallest crossover SUVs on the market. Even if the new crossover gets fuel economy slightly worse than the Mini Cooper Clubman it closely resembles -- 37 miles per gallon on the highway -- its fuel economy would also be among the best, if not the best, for a crossover.
With gas prices high, the crossover SUV market isn't as hot as it once was. But compact crossover SUVs are still doing better than most segments of the auto market, according to data from J.D. Power and Associates. And this one will be even more compact than most.
NEXT: Variety of entry
Last updated September 10 2008: 12:35 PM ET
Email
|
Print
|

Digg this story
|

RSS