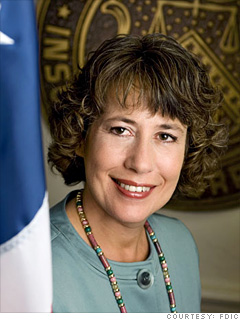 Chairman, Federal Deposit Insurance Corp.
"We will dig out of this. And when we do, I hope for a back-to-basics society." -- Fortune, Dec. 10, 2008
Here's one regulator who performed well under pressure (something in precious short supply in 2008). Indeed, she has emerged as a champion for consumers.
When Bair, a lawyer, academic and former regulator at the Commodity Futures Trading Commission, took over at the FDIC in 2006, she says she thought her biggest issue would be whether Wal-Mart should have a bank. But after conducting an analysis of bank loans that revealed an alarming pattern of lax lending standards, Bair quickly realized the trouble ahead.
Under her leadership, the FDIC was one of the first government agencies to flag problems in aggressive mortgage lending. In the spring of 2007, Bair began calling for the industry to modify home loans on a large scale, not only to help homeowners but also to limit the damage to the institutions that made the risky loans.
In 2008, Bair supported the fight by Congress to increase deposit insurance limits to $250,000 from $100,000 to provide more protection for individual investors. And she's spearheading government efforts to renegotiate mortgages to keep people in their homes and stem foreclosures. --D.R.
NEXT: Hero: Aaron Patzer
Last updated December 12 2008: 6:01 AM ET
Email
|
Print
|

Digg this story
|

RSS