In a disastrous year for auto sales here's who came out on top and who got thrown under the wheels.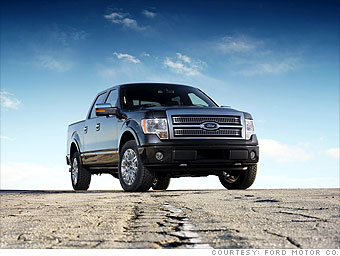 Big trucks got hit from every direction in 2008. First, gas prices soared to over $4 a gallon. Then, a mortgage crisis crunched new home construction, a big market driver for trucks. Then a national economic crisis drove down all new vehicle sales.
Things got so bad that Ford delayed the introduction of its new, redesigned 2009 F-150 (shown here) so dealers would have time to sell down their inventory of the old 2008 model.
Still, for the 27th consecutive year, the Ford F-series was America's top-selling vehicle of any sort. All in all, Ford sold 475,240 F-series trucks in 2008, according to the automotive Web site Edmunds.com.
Trucks, and the F-series in particular, have an advantage over cars in this race. First, trucks are bought for personal use and in large numbers for fleet and business use. Second, there are simply fewer large truck models for buyers to choose from.
And third, each model is available in a mind-boggling array of sizes, body styles and engine types. The F-series benefits in particular because, aside from a relative handful of Lincoln Mark LT's, it sells only under the F-150 name. GM's truck sells as the Chevrolet Silverado and the GMC Sierra.
If you combine GM's two brands of big trucks, they actually outsold the F-series by almost 160,000 units.
NEXT: Best-selling car: Camry
Last updated January 08 2009: 9:21 AM ET
Email
|
Print
|

Digg this story
|

RSS