As Chrysler and GM work through their viability plans, they're looking to unload some of their models.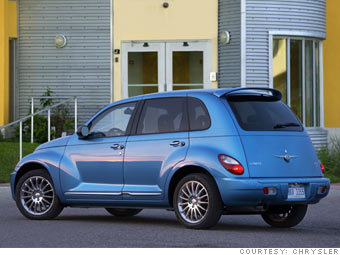 In the "viability plan" that Chrysler submitted to the Treasury department the carmaker laid out some more changes to its product line-up.
Some of those changes had already been announced shortly after Chrysler's new owners, Cerberus Capital Management, took over in 2007. The new management team quickly announced that the Chrysler Pacifica crossover, Dodge Magnum wagon and PT Cruiser convertible would be dropped.
As part of its latest announcement, Chrysler co-president Jim Press told reporters that the hard-top PT Cruiser, shown here, and two of Chrysler's SUVs, are being dropped from the line-up as well.
Chrysler also said that new versions of two of Chrysler's popular sedans would be coming soon, as well as a new Jeep. Chrysler also has vague plans to bring an electric car to market next year.
NEXT: Dodge Durango - Gone
Last updated February 18 2009: 11:42 AM ET
Email
|
Print
|

Digg this story
|

RSS