Get ready for a truly amazing fire sale. Many doomed Chrysler dealerships are stuck with some decent cars and trucks on their lots that they need to unload by June 9.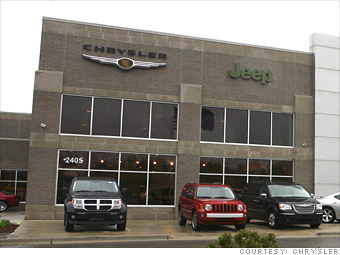 If you're ready to take advantage of the sale of the century at your neighborhood Chrysler dealer, especially if it's one that's doomed to close, you may want to hang on a bit longer.
Prices on Chrysler, Dodge and Jeep vehicles are already low but some experts see them getting even lower.
There's a June 9 deadline for these dealerships to unload their inventory either to other dealers or customers. Ordinarily, Chrysler would buy back the excess cars but since its in bankruptcy, it can't.
What Chrysler may do, however, is increase incentives as the deadline draws near, said Jesse Toprak, an auto sales analyst with Edmunds.com.
Mike Jackson, chief executive of AutoNation, the country's largest dealership group, doesn't think Chrysler will need to bother. Many dealers may be forced to discount heavily as the deadline draws near if they still have cars on their lots, he said.
According to a pricing analysis by the website Truecar.com, Chrysler dealers whose anemic profit margins have grown a bit, have some room to bargain.
But for buyers interested in getting a great deal timing is everything. There are drawbacks if you it too long: The selection of available cars will thin out.
Chrysler has stopped its production lines as long as its in bankruptcy. Also, stripped of its relationship with Chrysler financial, Chrysler is not offering low-rate car loans, at least for now.
So shop carefully and choose wisely. More-so than most automakers, not all Chrysler's products are created equal.
Here are a few good cars we're recommending at greatly discounted prices, according to pricing data from Edmunds.com.
NEXT: Chrysler 300C