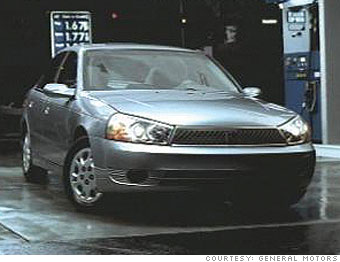 It's not that the Saturn sedan was such a bad car, it just wasn't terribly interesting, attractive or exciting.
In that, it was a perfect example of what had become of the Saturn brand 20 years after it was founded in the early 1980s.
GM founded Saturn in the hopes that "A different kind of car company" would bring foreign-car fans to GM. And, in that respect, it actually worked. Most Saturn buyers had never bought any GM car before. In fact, many owners didn't even realize they had a GM product in their driveway.
Owners were attracted by Saturn's friendly no-haggle vehicle pricing policy. The brand also earned a reputation for fuel economy and dependability, despite the fact that its cars were actually about as dependable and efficient as similar cars from other GM divisions.
For years, GM didn't seem to know what to do with Saturn and the brand languished with cars like this one, lacking inspiration and appeal.
Finally, GM decided to make Saturns just as it made other GM models - basing them on the same underlying engineering as its other cars - but making the designs more eye-catching. By 2008, the change-over was complete and Saturn had all new cars. Then the economy tanked, marketing money dried up and with Saturn sales not budging, GM decided to sell of the brand.

NEXT: Hummer H2