These new vehicles have the best quality right out of the gate, according to owner surveys.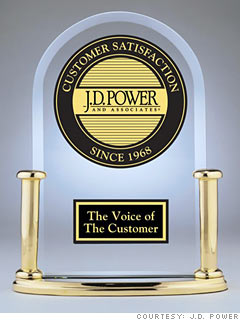 If you're tempted to buy a domestic car because of its bargain price, here's another reason to consider: Quality improvements among U.S. carmakers have outpaced the industry placing some brands among the very best, according to J.D. Power and associates.
While quality for the industry overall has improved by about eight percent this year domestic automakers managed a 10% improvement, according to the market research company. General Motors Cadillac luxury brand, for instance, jumped from 10th place last year to third this year.
Asian nameplates continue to lead the pack, though, with buyers of Lexus vehicles, Toyota's luxury brand, experiencing the fewest problems, followed by Porsche.
Another big surprise came from South Korean Hyundai, ranking as the best non-luxury brand and beating out both Honda and Toyota. Ford Motor Company's Ford brand was the best domestic non-luxury nameplate scoring just slightly behind Toyota's mainstream Toyota brand.
Despite progress among domestic manufacturers, Toyota, including Scion and Lexus, earned the most top rankings in various market categories. Toyota, Lexus and Scion products ranked at the top in 10 out of 14 different categories. Cadillac, despite it's high rank as a brand, had no vehicles that topped any given category.
J.D. Power and Associates definition of "Initial Quality" includes design factors -- such as the usability of various features -- as well as problems like things not working right or loose-fitting parts. Owners are surveyed 90 days after purchasing their cars and scores are tabulated based on "problems per 100 vehicles." Initial Quality has proven to be a good predictor of long term dependability, according to J.D. Power and other industry sources.
NEXT: Subcompact Car: Toyota Yaris