Just 27 vehicles this year meet the Insurance Institute for Highway Safety's new, tougher standards.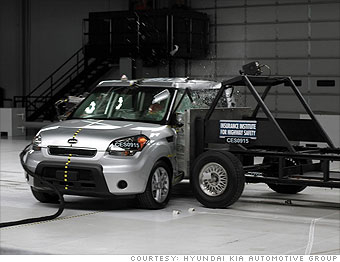 New cars keep getting safer, so the Insurance Institute for Highway Safety keeps raising the bar on what's required to earn the group's Top Safety Pick Award. That's why this year's includes just 27 vehicles, less than a third the number that won last year.
Last year, cars, trucks and SUVs had to get top crash test marks for front and side impacts as well as for rear-impact whiplash protection. Plus they had to have electronic stability control, a computerized system that helps the driver maintain control during abrupt maneuvers or on slippery roads.
This year, the Insurance Institute added a requirement for roof crush safety to protect occupants in the event of a rollover. To test roof strength, the Institute presses a metal bar against one side of the vehicle's roof. To earn a good rating, the roof must withstand 4 times the vehicle's weight while crushing less than five inches.
NEXT: Large cars