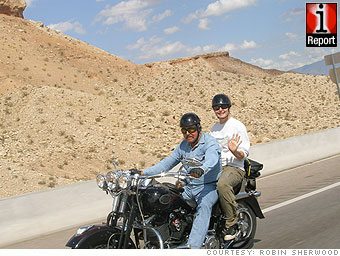 Robin Sherwood, 48, with her husband, Ron, on their motorcycle.
Family: Husband and two children
Former job: Mom; Husband was construction superintendent
Hometown: Boulder City, Nev.
"My husband, Ron, was a construction superintendent, and in that field you know the job is always going to end. At the end of September, they handed Ron two checks. We knew it was coming, but we just didn't expect it so soon.
With more than 1,400 people on the list at the union, it just doesn't look like any work for a while. With most of the construction sites shut down, the work is just not there. Now what? We don't know.
It's rough in Boulder City. There are no construction jobs, and even for me to go find a retail job the chances are slim. In this town, they don't look at bringing jobs in for local residents.
We get $1,500 a month from the unemployment checks, and the money is not enough to cover expenses. Our mortgage is $1,110 a month.
We've cut back to just the basics, even with groceries. We've applied for free lunches for my daughter so at least she can have a hot meal at school. We don't go into town unless we absolutely have to.
We've been racking our brains to come up with extra money. I've been working on a children's e-book, and I'd like to start selling it online soon. Ron and I might start selling motorcycle parts, and I've already sold some things on eBay. It's little opportunities, but we're trying.
We have only a couple weeks left of unemployment. After that we'll have to apply for an extension. We don't know what else to do." -- J.P.

NEXT: Jon Mikres