From a half-price deck to spending time with the kids to traveling around the country in pursuit of the best party, these people are making the most of the downturn.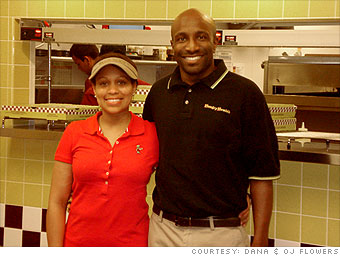 O.J. and Dana Flowers were right in the center of the latest real estate bust: They were loan officers at the California bank IndyMac.
When the bank went bust in mid 2008, the Flowers' decided to go into business for themselves.
With $60,000 down and a $300,000 small business loan, the couple opened up a Hungry Howie's pizza franchise in Atlanta four months ago, the first in the area.
It hasn't yet replaced their previous income of around $140,000 a year, but they're trying to get there and beyond: They plan on opening 12 to 15 of the restaurants over the next five years.
"We're employing people, and we're controlling our own destiny," said O.J. "I'm glad we got laid off."
NEXT: Best party ever