In July, CNNMoney.com told the stories of 4 out-of-work Americans who had just lost their unemployment benefits. Here's where they are today.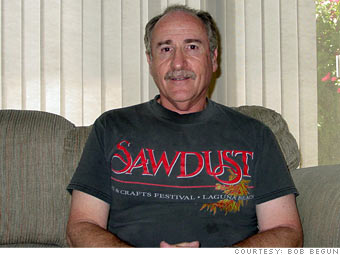 Unemployed since: April 2008
Benefits expired: October 2008
Full-time employment: No
Filed in: California
Age: 63
I'd run out of jobless insurance for the second time in a few years last October. I was first laid off in 2006, and it took me until February 2008 to find another job in technical sales -- it lasted only two months. When I turned 63, I applied for Social Security. Every penny of it goes to house payments. It would have been ideal to wait until I was 65, but that wasn't an option.
Since July I still have not found work, and I've had to put my job search aside as I have a bad shoulder. Back in 1969, I had surgery on that shoulder to fix a recurring dislocation problem. The procedure they used back then is no longer in use because about 35 years down the road, you end up losing all of your cartilage in that shoulder joint.
The pain is pretty bad all of the time. Luckily my wife is employed in the health care field, but her health plan covers only 70% of the surgery. I was in no position to pay thousands of dollars to seek alternatives.
So, next month I will be transitioning to Medicare. They cover only 80% of costs and you must purchase a gap policy pay the difference. I'll also need to get into Part D prescription coverage, and that carries a $325 deductible. Fortunately my son reminded me that I am a veteran. I also enrolled in the VA health system, and with no premium costs it is so much better than Medicare for me. I'm talking to their clinic to see what can be done, but since VA is crowded with Iraq and Afghan war vets, it will be a while before I can get this surgery. But I must get this shoulder joint replaced; until that happens, the job search is impossible.
NEXT: Patrick Erwin