The Great Recession has forced some people to find creative ways to cut back on their spending. CNNMoney.com looks at what four people are doing to save money.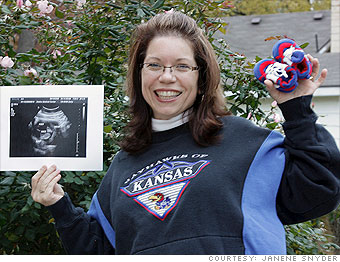 Janene buys shoes for her grandson-to-be at garage sales.
Though Janene Snyder has long enjoyed hunting for bargains at garage sales, her hobby has turned into a much-needed source of income and savings.
The shaky job market has taken a toll on Snyder and her husband, David. At one point over the summer, she thought she might lose her job as an office manager for a non-profit group. At the same time, her husband was told not to bother reporting to his dental lab technician job one day a week. Altogether, they lost about $500 a month in wages.
Not helping matters was a sharp spike in the family's health insurance costs, which rose several hundred dollars a month.
So Snyder turned to garage sales to supplement the Eudora, Kan., couple's income. She now goes to as many as 65 garage sales in a single morning, up from 15 a year ago. Snyder, who hits her first home at 6:30 a.m., looks for items she can resell on eBay or Craigslist for a profit. She estimates she makes up to $4,000 a year from her side business, double a year ago.
"It's like a treasure hunt," said Snyder, 44, who is married with three grown daughters. "And I can turn it around and pay the bills. It's fun."
By shopping at garage sales, Snyder also saves a lot of money on the household items she needs. For instance, the budding photographer bought some frames, backdrops and lighting equipment that was priced at $250 for only $40. And she found a crib for her pregnant daughter for $35 that once retailed for more than $300, she was told.
Like many other people, she has cut out frivolous purchases. Snyder, who has redecorated her house with garage sale finds, recently walked past a $20 Coach purse because it didn't meet her thrifty new standards.
"I don't buy things for fun anymore," she said. What she picks up either has "to make money or save a lot of money."
NEXT: Rich Hearn: Chopping wood for warmth