Through most of the decade Florida was one of the fastest growing states. But the sunny clime -- and 6 others -- lost more residents than they gained in the year ended July 1.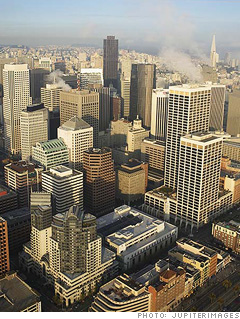 Net loss:
98,798 residents
For years more people have fled the Golden State than have arrived. In the year ended July 1, California was the country's biggest loser, with nearly 100,000 more residents leaving than moving in.
Still, that was an improvement over earlier losses: In 2006 the net decline was 313,081.

Much of that improvement came from the housing bubble bursting. Homes became harder to sell as thousands of foreclosures sat on the market. As a result, many Californians stayed on rather than sell their homes at a loss.

Mobility in the weak economy has declined in general, according to demographer Greg Harper of the Census Bureau. There's no point in moving to find work if few jobs are available in most parts of the country.
NEXT: New York
Last updated December 28 2009: 3:56 PM ET
Source: Census Bureau population estimates, July 1, 2008 - July 1, 2009.