America's health care system is expensive, inefficient, and leaves many citizens without coverage. Here's what 6 entrepreneurial companies are doing about it.
Price checks for your prescriptions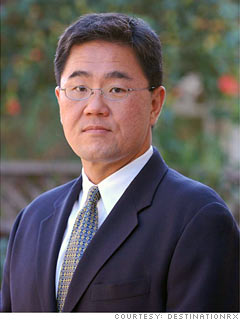 Michael Cho, CEO of DestinationRx
DestinationRx
drx.com
Headquarters
: Los Angeles
Launched:
2000
What it offers:
A Web site that allows consumers to compare the costs of prescription drugs
With more than 145 million Americans a year surfing the Internet for information about health care, dozens of Health 2.0 upstarts have popped up to sate consumers' need to know. There are social networking sites such as PatientsLikeMe.com and DailyStrength.org that act as online support groups for people suffering from long-term illnesses, sites where patients can rate and compare doctors like CheckMD.com, and drug-comparison portals like PharmacyChecker.com where folks can locate the cheapest price for prescriptions.
But only DestinationRx - the dinosaur of the drug-comparison marketplace - has contracted with the federal government to allow Medicare patients to shop around and compare plans before selecting a Medicare Part D health plan. "We power Medicare.gov," says Michael Cho, CEO of DestinationRx. "Three out of four Medicare patients, 8 million seniors, have used us to enroll in a plan."
The startup, whose core technology allows consumers to compare their current prescriptions and therapies to lower-cost alternatives, almost didn't survive the dot-com crash. Cho - formerly an early employee at MySimon.com, one of the first comparison-shopping sites to hit the Internet - managed to buy DestinationRx back from investors and bootstrap the company. In 2003, the Centers for Medicare and Medicaid Services asked Cho if it could license his technology to allow its users to compare drug plans.
"Trying to build standards across an industry that had never been standardized before - we didn't sleep for six months," says Cho, whose company employs 82 workers today.
As a result of the technology DestinationRx cobbled together for Medicare - retooling the service to search and compare health plans as well as drugs - the firm has landed jobs with dozens of large enterprise clients, running corporate benefits sites for Disney, Aetna, Cigna, and grocery chain Safeway. Up next: Continuing development on Web-based tools that use consumer feedback to help pharmaceutical companies better price their drugs and educate consumers about them.
NEXT: Stretch your benefits further