Ford's new MyTouch software makes cars act like smartphones.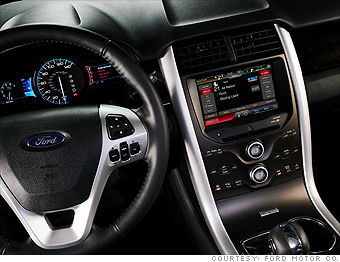 When Ford unveils the next-generation Lincoln MKX at the Detroit Auto Show show next week, it will include the latest version of Ford's Sync software, called MyFord Touch, itself just unveiled separately at the Consumer Electronics trade show.
The latest version of the Microsoft-based software turns the car's entertainment system into something much more like a rolling smartphone able to connect to other devices and even run downloadable applications from outside companies.
Ford engineers have a lot more to contend with than cellphone makers do. You wouldn't want to leave your iPhone inside a parked car on a scorching hot day so how will delicate electronics embeded in your car react?
Besides that, distraction is a much bigger issue when you're driving a car than when you're walking down the street.
NEXT: Avoiding distraction