The Porsche GT3 R Hybrid points the way toward a future hybrid sports car.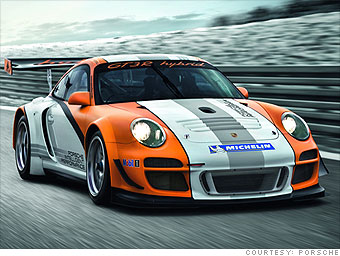 Porsche revealed images late Wednesday of its first hybrid sports car, a track car it plans to unveil at the Geneva Motor show next month.
While you won't be able to park this car in your driveway -- it's a race car intended for LeMans endurance racing -- it is based on the same production 911 you can buy today. A future 911 hybrid for public consumption is "open for discussion," a Porsche spokesman said.
A couple of years ago, Porsche executives were saying that a hybrid Porsche sports car was a long shot, at best.
Porsche has long been working on hybrids, just not sports cars. Hybrid versions of its SUV and its new four-door car are on the way.
Sports cars are a bigger challenge though. The added hardware required by a hybrid threatens to bog down a sports car and upset its critical weight balance.
But some technological advances have made this car possible, Porsche says. Still, a deeper look into GT3 R hybrid reveals a car that's strictly for the professional driver.
NEXT: Strictly for the pros