If you pick up your car at the factory, some European automakers will pay for your hotel and sometimes even the airfare so you can tour the continent in your ride.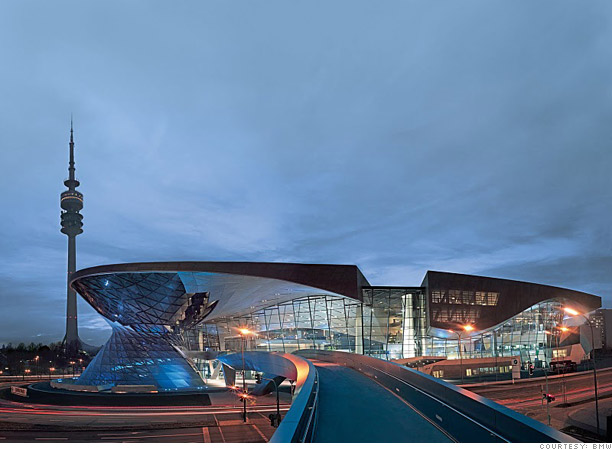 BMW's Welt museum in Munich.
One of the perks of buying a European luxury car is that some manufacturers will throw in a low-cost -- or even free -- trip to Europe where you can pick your car up directly from the factory. Not only that but, in most cases, they'll even give you a discount on the car. In this case, BMW is offering 7% off sticker price if you participate in its European delivery program.
BMW offers new owners an especially dramatic introduction. As you walk down a sweeping staircase in Munich's BMW Welt museum, you see your new car below, spotlighted on a platform.
After that, enjoy driving your car through Europe for two weeks before putting it on a ship bound for home where you'll pick it up again a few weeks later at your local BMW dealer.
The less adventurous, or those ordering one of BMW's American-made SUVs, can pick up their car at BMWs U.S. headquarters in South Carolina. Part of the fun there is wide-open driving on BMW's test track in a car similar to the one you purchased.
BMW can afford to do this because, even though BMW makes all the shipping arrangements and covers the shipping costs, you are, technically, shipping a car you already own to yourself. That reduces the fees BMW has to pay on the car, a BMW spokesman said. It's good for everybody.
NEXT: Mercedes-Benz