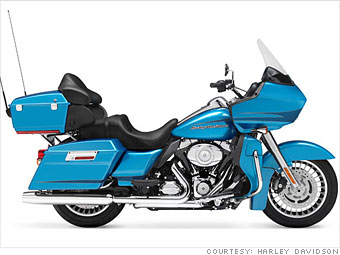 The 800-pound gorilla of the motorcycle business, with 55% of the heavyweight market, is gaining market share. U.S. retail sales of Harley's motorcycles decreased 9.35% for the quarter and 13.4% for the first nine months of 2010 -- less than the overall industry.
Harley is also broadening its appeal. In 2008, it became the market share leader across all sizes of bikes. It is also capturing younger buyers; Harleys are more popular with today's 18-34 year olds than it was with the Baby Boom generation at the same age.
In 2011, Harley will hike the number of its model offerings to 32 with three new models, including the Road Glide Ultra. One big selling point for the $22,499 machine: a capacious six-gallon gas tank that gives customizers a larger canvas. "We know fuel economy is important," says Harley, "but so is style." For the record, the Ultra gets 35 mpg city/54 mpg highway."
NEXT: Honda
Last updated October 27 2010: 1:33 PM ET